AT FIRST glance they look like futuristic pods — identikit rectangular boxes with large windows and even skylights.
But inside these simple 90sq ft pre-fabricated modules lies a new world of accommodation: pop-up bedrooms that can be installed into almost any building space in a matter of hours. This is Vivahouse, a revolutionary new concept in accommodation, which founders Rajdeep Gahir and Dara Huang hope will resolve Britain's housing shortage — transforming vacant commercial spaces into boutique, co-living homes.
After a year of research and development the pair, who have backgrounds in finance, property and architecture, have created a modular accommodation system that is pre-fabricated in the UK and built off site in less than 24 hours.
They are then installed in empty buildings — former office blocks or commercial spaces — where Rajdeep and Dara have negotiated with landlords and councils to gain a residential lease.
Each one is flatpacked, fits into a normal sized passenger lift, and can be erected by two people in around two hours. Panels click into place, while wiring is connected by an electrician to the electrics in the building. It's a little like Lego.
The pods meet building and fire compliance standards and have higher sound-proof ratings than standard residential apartments.
The first Vivahouse in Britain — with 34 pods — will open in spring in a former pub in west London, offering accommodation from £600 a month for leases of around 12 months, including bills, taxes and daily cleaning of communal areas. Shorter stays are also available.
Inside, each pod are bespoke bedrooms, with wooden floors, copious shelving, wardrobes and cupboards, work desks, windows, and, in one model, even a skylight. There are also a range of colours and designs — from creams and neutrals, through to blues and rich rust reds.
Every room has an individual finish and all are fitted with designer Tala lights. Keyless entry means the rooms can be opened on a phone app — which also allows the company to track occupancy to avoid multi-occupancy or any abuse.
Rajdeep, a former employer of WeWork, which provides shared commercial spaces for workers, says she and Dara, were inspired by two factors — the chronic shortage of affordable housing in London, and the number of empty commercial buildings in the capital. 'We wanted to plug into the needs of Generation Move, or Generation Rent as they're sometimes called, who struggle to afford accommodation,' Rajdeep says. 'They often have to live in pretty low-standard accommodation or in flat shares with lots of other people. It's less than ideal.'
The pair spent a year travelling around Britain, Europe and America to meet manufacturers and financiers who supported their vision. In the end they found financial backers and manufacturers in Liverpool who have created eight prototypes.
There are meditation and yoga pods, which sit alongside the bedrooms, and are designed to encourage a sense of community.
At the moment kitchens and bathrooms (equipped with soaps and toiletries) are built in to the building, but work is underway to create individual bathroom pods.
'Vivahouse units can transform existing commercial buildings into residential units and can be developed at a 70 per cent time and cost reduction compared to traditional construction — or even options such as shipping containers, which have to be installed using a giant crane, which is expensive,' Rajdeep says.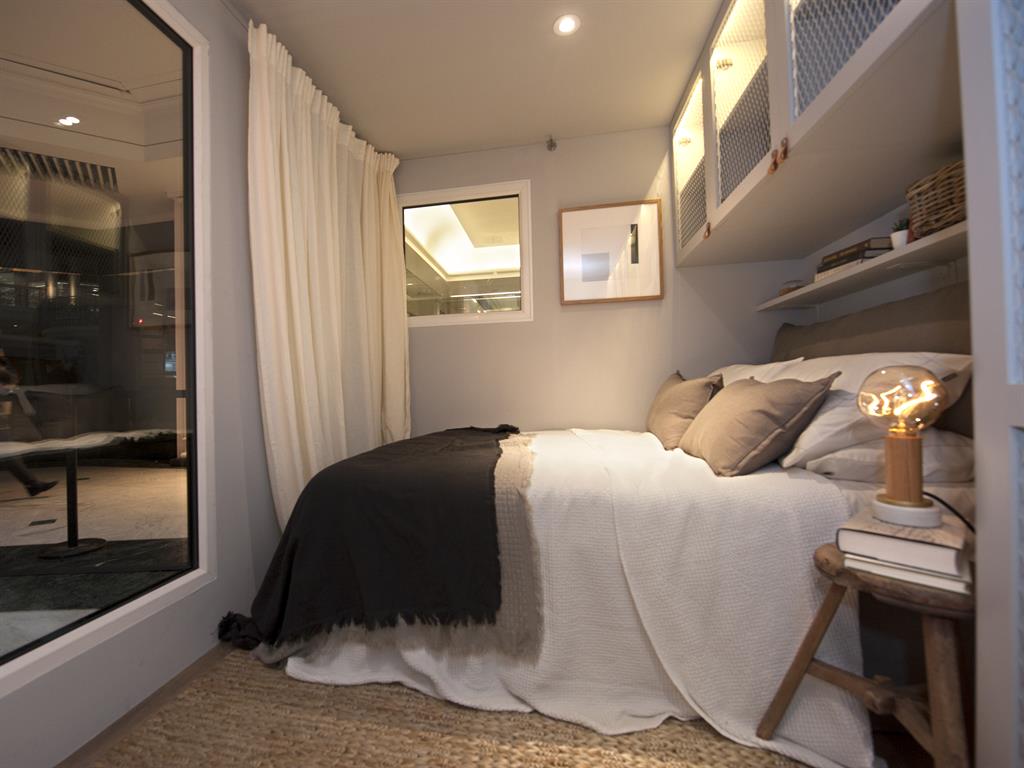 Part of our strategy is to take on the struggling high street — we can repurpose empty and abandoned buildings to offer new living space in the capital.
'These units are designed for millennials who currently spend two-thirds of their income on rent. This gives them a bespoke space they'll be proud to call home, where they can meet new people and stay on a flexible term.'
Dara says: 'We wanted to design Vivahouse to promote a comfortable and mature lifestyle to take away the stigma that micro living is focused on just students. This is really a platform to showcase how design can alter perception and create comfort in even the smallest spaces.'
Rajdeep said the property industry had given the ingenious innovation a cautious welcome. 'Everyone thinks it's a great idea, though most people would have shied away from doing it,' she says. 'Property is a very risk-averse, conservative industry.
'But we think these units have long-ranging and wide potential. They could be used to provide accommodation for corporate events, Olympic sites, sporting events and maybe even as an option to hostels. This is a new and smart way to use empty commercial space. There were a lot of challenges dealing with planning, building standards and zoning — but the reward is the potential mass impact we can have on the housing market.
'It's great to be involved in what we see as a game changer.'
■ To find out more about Vivahouse visit vivahouse.com