WHEN I think of a shaman, I picture a man with long hair, a beard and wise, old eyes. Someone you'd find in a rainforest that takes five days to get to. It seems I'm out of date.
Now a podcasting shaman called Eddy will come to your five-star hotel room in central London, dressed in Carharrt trousers, looking like an off-duty pop star with arms full of tatts and some statement jewellery.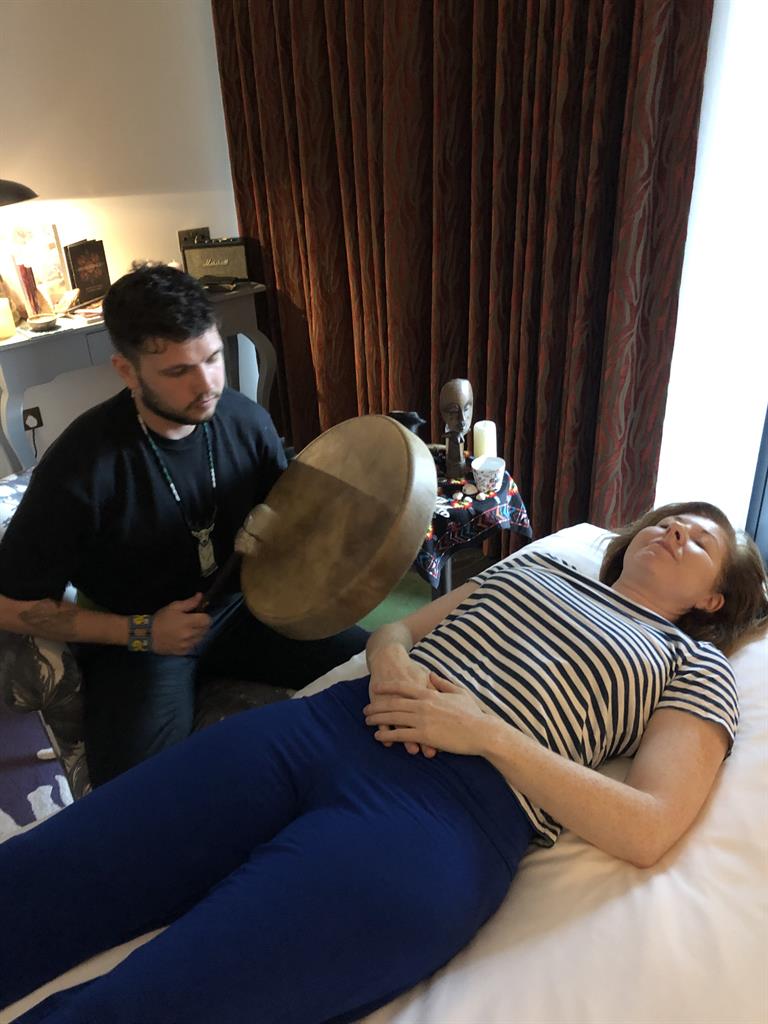 And just as a waiter would bring you a hamburger for room service, he'll whip out a drum, some eagle feathers and a rattle while you lie on the bed and have your soul cleansed. Or retrieved. Or something I don't really understand…
If that doesn't float your boat, perhaps another of the treatments in the new 'spiritual concierge service' at the capital's Mandrake Hotel will. The Soul Connector is described as a 'scent and sound bath' — vibrational healings are reported to cure imbalances of energy channels and help restore and rebalance the mind and body.
It uses essential oils, together with gongs, crystal bowls, a medicine drum, chimes and Native American flute. Who knows what the neighbours will think. The Spiritual Awakener therapy uses the trance-inducing sounds of crystal bowls combined with reiki. Or there's the Heart Opener, a 'cacao ceremony' whereby you sit with a therapist who mixes thoughtfully sourced pure cacao (it's the pure, bitter, 'medicinal' form of chocolate combined with water and other ingredients, not Dairy Milk) and guides you through mindful meditation.
Each room contains a 'spiritual menu' and Alex Holbrook, the Fitzrovia hotel's resident expert, is on hand to talk you through which treatment is most suitable for you. She will then go through her spiritual Rolodex — Alex also runs Otherness, a listings site for spiritual events around London — and bring in the capital's best healers to work with you. Bespoke treatments are also available but be warned: therapists need 24 hours' notice.
'When the hotel opened in 2017 they had weekly gong baths in the theatre space, which were open to guests and the public,' explains Alex. 'The events became popular and guests started to ask for private sessions, so we started the in-room service.'
They now have weekly public events as well as the personal, in-room services for guests. I decide to try shamanic healing, which is for serious spiritual seekers. This treatment is hot right now. All the A-listers are doing it, from Selma Blair to Gwyneth Paltrow, and shamanic healing centres, retreats and workshops have been popping up all over the country.
I walk into my room and find it has been smudged with white sage — to cleanse the energy — and shaman Eddy is sitting in the corner with a calm disposition. He asks me what I want to work on. I tell him money and my tendency to blow through it.
'What do you feel when you have money?' he asks.
'Stressed,' I say.
'If it makes you feel stressed, why would you want to keep it?' he asks.
Eddy tells me to kneel by a tiny table near the bed, which is cluttered with objects he has brought with him, including a carved wooden man who looks like he has a giant cigarette in his mouth. He is meant to represent the divine masculine, apparently. Then I lie on my Egyptian cotton sheets and close my eyes while Eddy starts speaking what sounds like a spell: 'Welcome sacred powers of the east, the fire, the sun…' Then he starts banging the drum and chanting: 'Hey-hey-yay-hey-ah, hey ha…'
While it doesn't resonate with me, it clearly does with others — perhaps they crave connection with nature and the feeling of being part of something bigger as political and environmental crises rage. Which is why it feels uncomfortable having this treatment in a luxury hotel.
I don't know if an ancient tradition that calls on spirits and nature belongs in the centre of London in a room that costs £300 a night. But maybe it does. Maybe it belongs everywhere.
I leave feeling confused and tired. Eddy tells me that in the coming days I should bury some money in nature as an offering to spirits. And I do. I also buy flowers and give a homeless man sitting outside the hotel a tenner.
The Mandrake wants to bring spirituality to Londoners as well as the international visitors who stay with them. What weird times we live in. I, who have so much, worrying about money with a 28-year-old shaman in a five-star hotel, while a man outside, with no shoes, sits in the rain.
■ The in-room Spiritual Wellbeing menu offers treatments costing from £150 to £300, on top of the room fee. The weekly spiritual event programme starts at £40pp. themandrake.com