■ 2lg Studio, AKA Russell Whitehead and Jordan Cluroe, diagnose your design dilemmas
WE LOVE the colour International Klein Blue — but what exactly is it, we hear you cry? Well, it's a deep hue first mixed by the French artist Yves Klein in the 1950s, and then made famous by the Yves Saint Laurent art deco Majorelle Garden masterpiece in Morocco. It is an electric, almost neon, blue — lively, cool and very vibrant! So much so that lots of you may find it difficult to integrate into an interior, especially as winter approaches. We have just painted our study ceiling this colour and it makes us warm and happy every day. So today, we want to help you embrace it in small — and large — doses.
I want something bold for my bedroom — I love a dark space to sleep in, but don't fancy black or dark grey shades. What would you suggest? Carrie
Big yes to bold big changes. You know what we are going to say, don't you? Go for blue. Hell, go for Yves Klein Blue! It looks amazing with crisp white accents like sheets and furniture. It will certainly give you that midnight sky effect for a great night's sleep. The super matt nature of the paint is also really warming in a funny sort of way, like having a big blue hug.
Our living room is pale grey with a dark grey sofa and pale oak floorboards. We need to add some finishing touches, but have run out of steam. Help! David and James
Remember that a home is never finished — it should grow with you and change accordingly. It sounds like you need a little colour in your life and we think pink and Yves Klein Blue would be perfect. Have you thought about painting the walls pink and then accessorising with blue? The good thing is you have a solid base with which you can now layer the fun things like cushions, rugs and paint. Start slowly by introducing colour to one wall, and then see how you feel. Pink, grey and blue will look dreamy for sure!
I have a white bathroom suite with white tiles. Is it possible to paint over the tiles? Pawel
We have never done this personally, so wouldn't want to recommend it — but get a local tradesperson in and ask their opinion. What we have done before — which is cheaper than ripping off all the tiles and then replastering — is to tile over the top of existing tiles. We love these new handmade Geometrie Componibili screen-printed tiles from elisapassino.com, from £279.69sq m (39 tiles).
Get the blues
THE PAINT
We have two great options (pictured top): Ultra Blue by Little Greene. £49 for 2.5l, littlegreene.com — and the aptly named FTT-018 (Film, Television and Theatre 018), £44.10 for 2.5l, mylands.com
THE ARTWORK
We love the playful and experimental typography of the PLTY Yves Klein Blue G Poster. From £35, opumo.com
THE CANDLESTICK
Use a few Jasper Conran blue glass candlestick holders as a table centre. £16, debenhams.com
THE RUG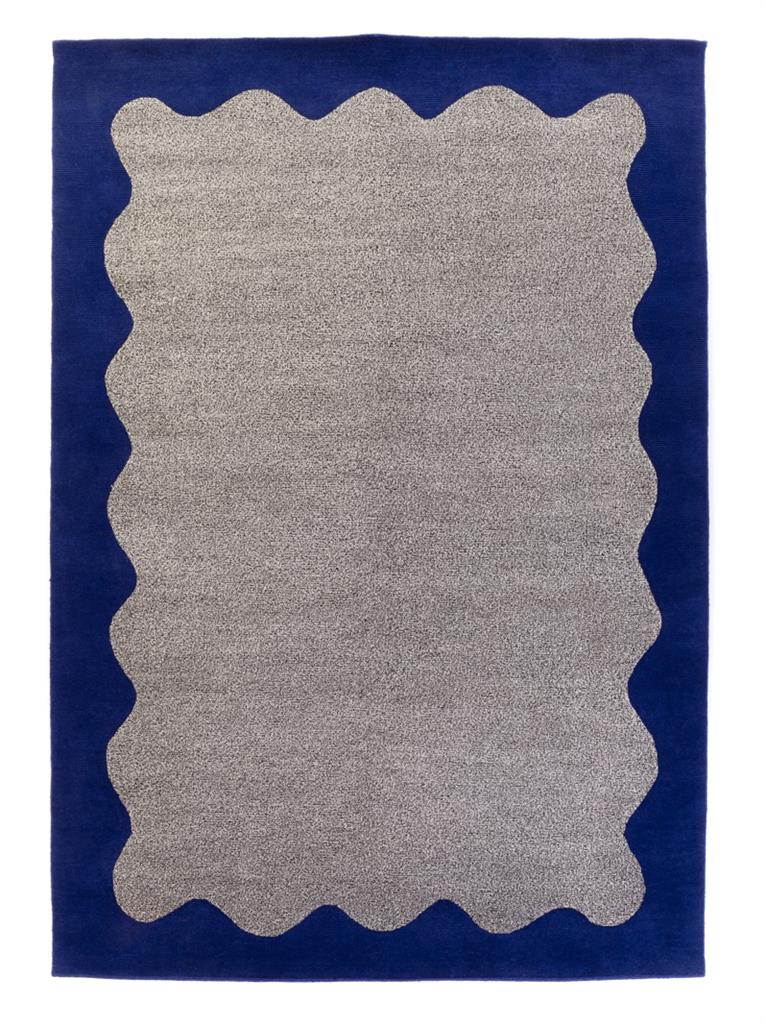 For a little bit of madness underfoot, try our Portal Inverse flatweave rug in blue. From £550, floorstory.co.uk
THE LIGHT
Aurora lamp: Moroccan feel with printed shade. We love it! £153, pooky.com