THE SOCIAL MEDIA SAVVY
Snap Nico and Veronica Spectacles
Snapchat's photo-capturing, video-recording sunnies (pictured above) are back in a couple of new guises so you can capture the world as you see it while looking ridiculously stylish in the process. £199, selfridges.com
They'll also like…
The Canon EOS M50 (£418.99, eglobalcentraluk.com), an extremely capable mirrorless camera that has 4K video capture, an electronic viewfinder and a rotating touchscreen crammed into its compact body.
The Joby GripTight ONE GorillaPod Magnetic with Impulse Remote (£44.99, jessops.com) is a flexible magnetic tripod with super strong tentacles for your smartphone.
THE STRESS-FREE
Kindle Paperwhite
An electronic tome is the perfect prezzie for someone who likes to bury their head in a good book. This one can even withstand a dunk in the wet stuff for a bit of 'me time' in the tub. £99.99, amazon.co.uk
They'll also like…
HoMedics' Gel Shiatsu Massage Pillow (£69.99, homedics.co.uk). Take your masseuse off speed dial and use this portable pillow, which will bring relaxation to your legs, lumbar or shoulders.
Or get the spa experience at home via Revlon Pediprep Foot Spa and Pedicure Set (£24.99, amazon.co.uk), where jets and rollers massage your tootsies.
THE DJ
Native Instruments Traktor Kontrol S4 MK3
Bringing a little more functionality to the party, the next-gen S4 offers a new way to mix. Its Haptic Drive technology in the motorised touch-sensitive jog wheels will provide tactile feedback to DJs as they do their thing. £719, native-instruments.com
They'll also like…
SanDisk's Ultra Fit 3.1 USB (from £6.72, amazon.co.uk). If you know someone with a digital music collection the size of a small city it's the ideal present.
And the Audio-Technica ATH-MSR7b (£219, eu.audio-technica.com) are premium cans that spit out high-quality sound and offer high-resolution compatibility in a lightweight and portable design.
THE GAMER
PlayStation Classic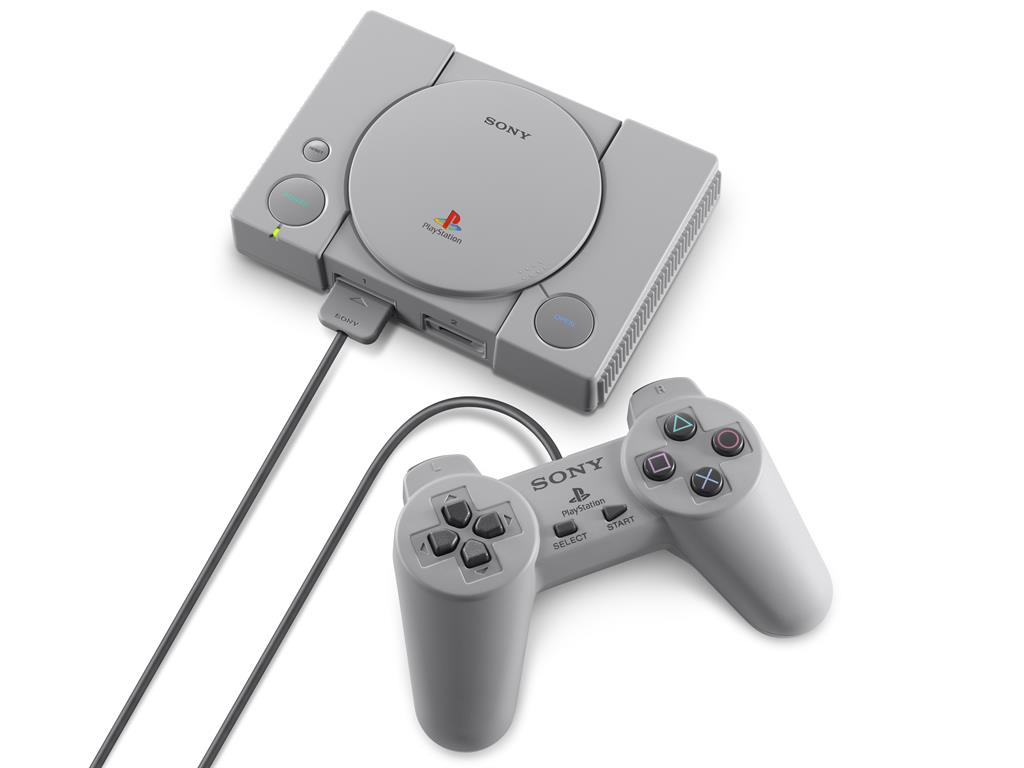 This miniaturised take on the original PlayStation bears the hallmarks of the iconic console complete with 20 built-in classics, including Final Fantasy VII and Tekken 3. £89.99, amazon.co.uk
They'll also like
The Xbox Adaptive Controller (£74.99, xbox.com). Designed for gamers with limited mobility, this customisable controller comes with programmable buttons and ports that represent each button on a standard controller. It will work with third-party add-on devices.
Lucky 7 X Fortnite Caps (from £65, luckysevencaps.com), meanwhile, are aimed at Fortnite fans. They take their cue from obscure locations in the game, including the Dusty Diner.
FITNESS FANATIC
B&O Play E6
Bang & Olufsen's audio boffins know how to produce a superb-sounding pair of 'phones. These snug-fitting in-ears will keep you company on a workout, while the magnetic earbuds automatically power down when stuck together. From £199.90, amazon.co.uk
They'll also like…
The FitBit Versa (£199.99, fitbit.com/uk) has NFC for wrist-based payments, music storage and health-tracking functions.
The Nutri Ninja 1000W FreshVac Personal Blender BL580UKV (£129.99, ninjakitchen.eu/uk) has vacuum blending on-board, pumps oxygen out and locks vitamins in for anyone who loves to whip up healthy smoothies.
THE WELL-GROOMED
Philips Series 9000 Prestige Shaver
This electric rotary shaver claims to offer blade-like precision when used wet or dry, while a wireless charging pad ensures it's ready to go. £430, philips.co.uk
They'll also like…
The Foreo Luna 2 For Men (£151, currentbody.com). Apparently it takes 8,000 sonic pulses a minute to dislodge daily dirt and grime, and achieve smooth skin — this device is on hand to address the needs of men's complexions.
Or go for the Toppbox Subscription (£19/month, toppbox.co.uk): this bespoke box of grooming essentials is perfect for anyone who can't be bothered to shop to get what they want.
THE BIG KID
Polaroid Play Pen
Show off your artistic expression and bring your doodles to life by turning them into three-dimensional sketches with this 3D-printing PLA filament-filled pen pen. £29.99, menkind.co.uk
They'll also like…
Lego Aston Martin DB5 (£129.99, shop.lego.com), an intricate replica of 007's Aston Martin from 1964's Goldfinger, complete with ejector seat.
The MekaMon V2 (£249.99, mekamon.com) is a mechanised spider and four-legged battle-bot that comes with an augmented reality twist so you can take on virtual enemies on a digitally enhanced battlefield or have real-life battles with pals.
THE CONNECTED HOMEBODY
Google Home Hub
This multifaceted device, which comes complete with visuals and Google Assistant, allows you to control your smart home, display YouTube videos, look back at Google Photos and even chat to the postman using a Nest Hello doorbell. £139, johnlewis.com
They'll also like…
Nanoleaf Canvas lights (£179.99, uk-shop.nanoleaf.me). Throwing conventional lighting out of the window, Nanoleaf's colour-changing and easy-to-install modular lighting system will make a statement while illuminating the dullest of walls.
The Amazon Echo Dot smart speaker (£49.99, currys.co.uk) provides an easy and affordable gateway to Amazon's digital assistant.
THE AUDIOPHILE
Marshall Stanmore II Voice
The iconic rock'n'roll stylings of Marshall's amp-inspired speaker are instantly recognisable — only this time Alexa's calling the shots. £349 (pre-order), marshallheadphones.com
They'll also like…
The Cowon Plenue D (£189, richersounds.com). This 3.7-inch 24bit/192kHz-supporting high-res device has 128GB of expandable storage and 100 hours of music-playing stamina. Know someone with a stack of records?
Sony's PS-HX500 turntable (£249, amazon.co.uk) can rip vinyl to hi-res files so you can carry them in your pocket while keeping the vinyl revival alive.
THE STYLE SAVVY
Skagen Falster 2 smartwatch
Fusing gorgeous fashion-savvy style with modern-day geekery, this polished piece of Android Wear wrist candy boasts NFC, heart-rate tracking and GPS, and will survive a dunk in the wet stuff. From £269, skagen.com
They'll also like…
The Knomo Audley (£279, uk.knomo.com) is a laptop bag disguised as a gorgeous bowler-bag tote that means you're less likely to draw attention to the expensive kit lurking inside.
The Victrola VS-140 Bluetooth Wood Speaker Stand (£180.12, victrola.com) is a Bluetooth and battery-flavoured device that streams high-quality audio.