Rough and ready: Street artist Remi Rough rebuilt his lovely home to house his amazing art collection
IN A world of high-stress home makeovers, renowned street artist Remi Rough is a breath of fresh air.
Sitting in his kitchen, laid back in shorts, T-shirt and a pair of Adidas NMD CS2s, he effortlessly downplays both his personal style and the grand design of his home.
'It was cool, but not as we wanted it to be,' he says of the four-bedroom Peckham terrace he bought in 2011 with his wife, Michelle Morgan. 'But we couldn't really afford to do anything to it at the time. We had to wait to do the 12-inch remix, so to speak.'
The '12-inch remix' he refers to is a mind-boggling renovation that saw the downstairs of his house completely demolished. But it was designed with one thing in mind.
'Yes, it was designed around my art collection,' says Remi, 46. 'Because I was planning to put a lot of colour and artwork on walls, I didn't want bright colours, I wanted London stock bricks and hallways to be a dark grey, and upstairs to be a dark grey, which looks amazing for artworks.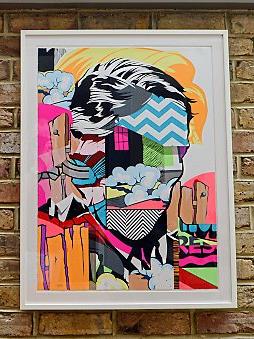 'We were thinking, we'll put our Marco Grassi piece here, so we'll want a dark space. Bone white in the kitchen will be great with that Shok-1 painting of a hand X-ray in bright neon pink. The wall that hangs the beautiful Jaybo Monk was designed specifically for that painting. We knew we wanted that piece in the kitchen, but not on a brick wall. So we said to the architects, when you design the fridge and toilet, can you leave a back wall that is a specific size?'
Born in 1971 in south London, Remi Morgan aka Remi Rough, has been breaking aesthetic boundaries for a quarter of a century. Transcending the traditional image of a graffiti artist, Remi is passionate about his creative progression over the years. Throughout the 1980s, he had a role in supporting the evolution of the UK graffiti art scene, and then in the 1990s, he became part of the abstract graffiti movement, as embodied in the UK by the Ikonoklast Movement crew, with Juice126 and Part2ism.
Since then, Remi has been invited to speak at the Tate Modern, painted in a Scottish village called Pollphail, abandoned in the 1970s and dubbed The Ghost Village, and this year painted London's largest mural on the Megaro hotel. He's now working on an album project called TheDeadCanRap with his friend, New York musician Mike Ladd. Meanwhile Michelle started PJoys, a pyjama company that uses art to help raise awareness for mental health.
Remi and Michelle are at home a lot working, with no morning commute, so the house needed to have a space that worked for all the demands of a young family. The kitchen is a hub, an office and also where they like to entertain. The huge glass door pivoting out into the garden — 'the most expensive door I ever bought!' — helps make this a bright, welcoming spot that almost echoes a trendy inner-city workspace.
This area was a utility room and an alley, but the end of the house was knocked out and extended for a side return, with the top suspended while it was also extended. Because it's a four-bedroom house, one bedroom was sacrificed to create an expansive master bedroom, and then a new bedroom was built on the back.
'We were very conscious that we would have an amazing light kitchen with a horrendous amount of light coming in, so we wanted lighting to work for us,' says Remi. 'Lighting was really important, and a mixture of spots and hanging lamps emphasise the artworks in dark spaces.'
Remi admits even the builder warned him against the dark walls. 'I said, "It's not your house so don't worry" — but they are both unusual, and work incredibly with the artworks.' Lampshades with gold and copper inside reflect light beautifully, and are matched to LED lighting and Plumen bulbs.
There are no artworks by Remi, apart from one in his 14-year-old daughter Lili's bedroom — the artist being slightly bashful about his own achievements. 'I just kind of like other people's art, I don't want to look at mine all the time.'
The couple admit to spending a lot of money on art, and being lucky enough to do swaps with other artists. But putting money into art before furniture makes perfect sense to Remi. 'People spend £3,500 on a sofa and sit on it every day then throw it away,' he says. 'Buy a piece of art for five grand and it can appreciate in value, and you never have to throw it away.'
One of the artworks that isn't going anywhere is the Bridget Riley. 'That could be seen as showy-offy,' laughs Remi. 'But I love Bridget Riley and that holds a real pride of place.
'There is also two little Anish Kapoors, which I love, and to share them is a wonderful thing. People who come do appreciate them.'
The non-artwork pieces in the house tend to be either old or contemporary, made with an engineered, faded glamour. There is an antique chest, mixed with chairs from French Bedroom Company. The effect, including the classical bed, is to riff against the crisp contemporary spaces. The dressing table from second-hand store in Dulwich and the mirror is Abigail Ahern.
'It's a good mix of my taste and wife's taste, with a smattering of my daughter's,' Remi says. 'It's contemporary, but we have things that look aged and beautiful. We like beautiful things and we like to collect, not hoard, and have beautiful things in our home we can enjoy and use.'
Looking at his box-fresh Adidas, he adds: 'I'm not the kind of person who buys sneakers and doesn't wear them, and a home should be like that too. It shouldn't be too precious. It's a home, and we use it and enjoy it every day.'
Get the look
Soup-er
Hang big, bold pop-art posters, like this variation on Andy Warhol's famous Campbell's Soup can print, for a blast of rainbow-bright colour, and get yourself a classic art piece for a bargain price. From £13.95, junique.co.uk
Dine out in style
Classic Eames-inspired dining chairs are effortlessly stylish and comfy. DSW style plastic dining chair in black, £45, cultfurniture.com
Big softy
Cosy up seating with layers of soft, faux fur cushions in muted neutrals. Faux fur cushion in grey, £20, johnlewis.com
Bright spark
Bright orange cabling fitted in a black Bakelite lamp holder creates a quirky wall light. £69.32, urbancottageindustries.com
Easy chair
A mid-century armchair is a foolproof, classic piece of home kit. Isunda grey. Ekenäset chair, £170, ikea.com
Funny business
Don't take your interior too seriously by including a few offbeat decorations like this fluro pink and steel Furbo bowl. £320, alessi.com
Mellow yellow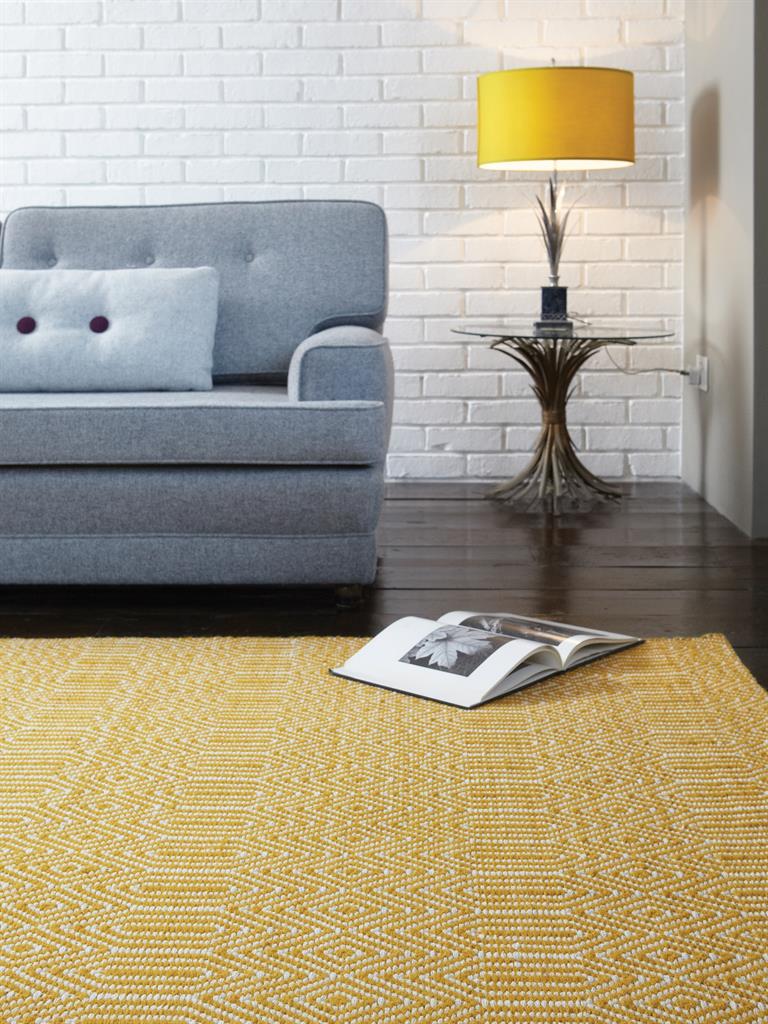 Harness the trend for Gen-Z yellow with a simple, pale lemon or mustard rug. Dunton handwoven mustard area rug, from £44.99, wayfair.co.uk