WHETHER it is the desk he commissioned Neil Jones to create, the 240kg chandelier made at Lots Road in Chelsea — the ceiling was reinforced and the stem cut so it didn't obstruct an artwork — or the £800 a piece bespoke chairs he designed on the back of an envelope, almost everything in Jamie Waller's Buckinghamshire house is down to his personal vision.
Even though the furniture cost him a fortune, the Bethnal Green-born entrepreneur made sure he got the best deal on everything.
'Do I always have to win a negotiation?' says the 40-year-old, wearing a smart Helmut Lang hoodie. 'Yes. My wife says it's a house, not a business,' he smiles.
The house is now is up for sale with the family looking to downsize to Barnes, where they lived before.
'The furniture is worth half a million pounds and a Hollywood actor [who viewed the property] wanted it all — that's the level of stupidity that you deal with on this level.' The property, with eight bedrooms and seven bathrooms over four levels, is impressive in terms of sheer size alone. Jamie bought it with wife, Madeleine, two years ago when it was on the market for £7.5million, after driving around and registering their interest on anything they liked.
It is magnificent in scale, with a glass double-height hallway looking out over an acre of land, complete with water feature and manicured garden. The kitchen has not one, but two Miele cookers and double steamers.
Over the dinner table is a stone and copper light that Jamie designed himself. Indeed, he created the whole room around it.
The balloon lights in the children's area of the living room were based on an idea Jamie found on Instagram and he located a company in Holland to make them in more calming pastel colours.
Colours stay neutral and restrained, matching razor-sharp cornicing and marble floors you could eat your dinner off. The kitchen's marble surfaces glisten in the light of the winter sun streaming through almost too many floor-to-ceiling windows. The property has the plush grandeur of a mansion in the Chicago suburbs, taking traditional features and maximising them to enormous proportions. 'The house is a statement to myself because I grew up with nothing,' says Jamie, who was raised in a rented flat above a shop. 'I had proved that I made it.'
He does concede that the property, with an acre of land, may be a little too big for a family of four. Finding a new carbon fibre motorcycle helmet in a box behind a door, Jamie quips: 'You know when a house is too big when you've been chasing a new crash helmet and it's here all along.'
The house is impeccably clean and free of knick-knacks and clutter. Jamie brings the same level of precision to his business. Sharp and presentable, he knows exactly what he wants. 'I have a strong self-belief and I go with instinct on colour and style,' he says.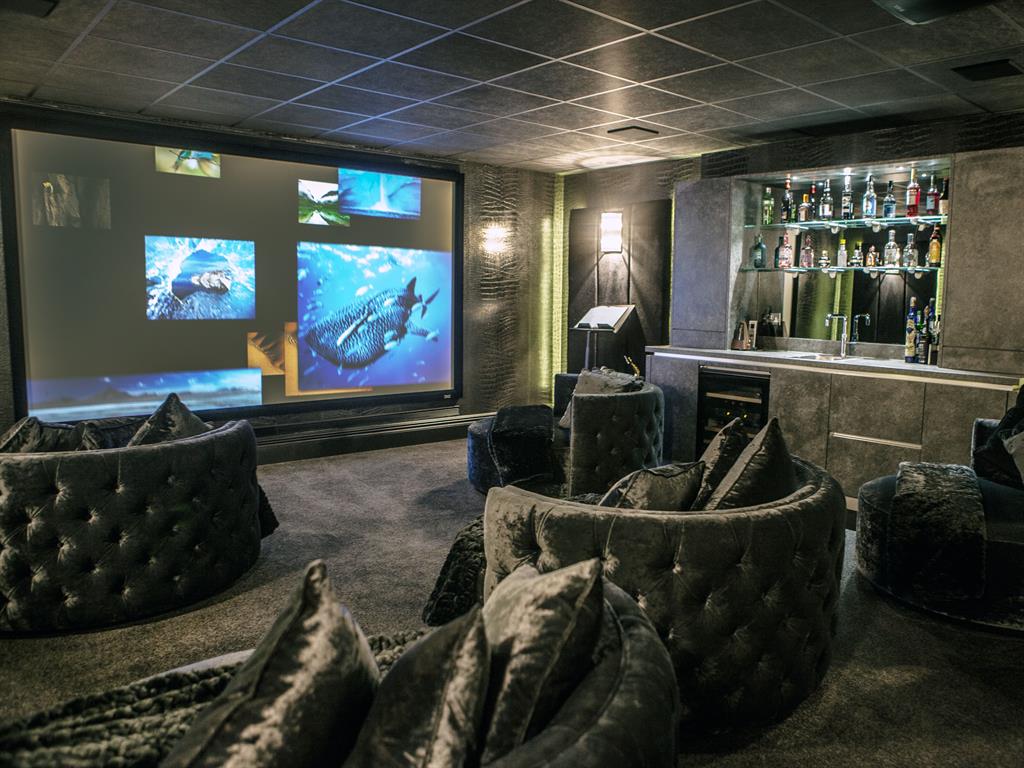 Is he a risk taker with interior design? 'Yes definitely,' he says. 'My wife hasn't convinced me yet that an interior designer can do it better.' Downstairs is a gym and huge cinema with love seats that Madeleine designed herself.
The one place where Jamie allows himself to be a little spontaneous and, dare we say it, frivolous, is his extensive art collection. Undoubtedly key among these pieces is Chris Levine's world-famous portrait of The Queen, Lightness Of Being. Jamie says he persuaded Chris to sell the backlit holographic artwork from his own collection.
Jamie is also an unabashed royalist. Alongside the Levine portrait, there is a work by royal sculptor Frances Segelman and a limited-edition rocking horse for his daughter based on one of the Queen's own steeds. Another notable artwork is tucked in a corner of the study.
'It's an original Picasso,' says Jamie. His dad gave it to him, having got it from a house clearance. 'You'd think it's worth a lot, but it's only about £36,000.' It is in this room you get a rare glimpse into the past, something Jamie doesn't dwell too much on. Along the wall are travel books from 1999 and 2000 when he went around the world before setting up his businesses.
'I'm forward thinking, I don't care about yesterday,' he says.
Jamie left school at 16 with no qualifications. He spent some time with a Hackney charity for disadvantaged children called The Imps, a motorcycle display team. The initiative, he says, saved him from a life of prison or drugs that most of his school friends had fallen into.
Jamie made his first million by the age of 22. He started his career with a £1,600 bank loan for a window-cleaning business and then went into debt recovery, founding JBW Group, which made millions and eventually featured in the BBC TV show Bailiffs. In 2016 and 2017, Jamie sold businesses that were valued at more than £40million. More recently, he founded fintech company Hito and also launched 'unsexy' investment businesss Firestarters.
His passion for business is apparent everywhere. In the study is a copy of Trump's Art Of The Deal. 'It's a great book but I did feel like I was buying an adult magazine when buying it,' laughs Jamie.
Also in the study there is a sculpture of the Wall Street Bull and a giant artwork proclaiming: 'Other People Think.' Jamie looks at it every day. 'For me, it's all about action,' he says. 'I believe in capitalism but I do see the darker side.'
Maybe it was this contrast that led him to form the Jamie Waller Foundation to help charities support children and young adults from less advantaged backgrounds. Indeed, he spends some of his spare time visiting drop-in centres and giving inspirational talks to people just out of prison.
With a Bentley outside, a Ferrari in the garage and a Team Sky road bike to ride to the shops, Jamie says wealth has made him a happy person and he embraces his success.
But for a moment, he reminisces on both the struggle and the fun he had getting to where he is today. 'The journey to try and succeed is in some ways more interesting,' he concedes. 'I love my wife and we are fortunate. What more can I ask for? 'The journey hasn't ended and I don't want to get off to be honest.'
■ The house is for sale with Bovingdons of Beaconsfield, POA, bovingdons.com. Jamie's book, Unsexy Business: How 12 Entrepreneurs In Ordinary Businesses Achieved Extraordinary Success And How You Can Too, is available at amazon.co.uk