THE Queen brought Prince Andrew in from the cold yesterday as Harry spoke of his 'great sadness' about his change of roles with wife Meghan.
Her Majesty grinned happily as she arrived at church with the Duke of York for the first time since he left public life last year over his links to billionaire paedophile Jeffrey Epstein. Meanwhile, Harry, who is tipped to leave Britain for Canada within days, said his new life was a 'leap of faith'.
In his first public comments about the royal shake-up, the Duke of Sussex told a charity dinner he felt there was 'no other option' but hoped it would lead to 'a more peaceful life' for Meghan and baby Archie.
The Sussexes have surrendered their royal income and will stop using their HRH titles as part of a hardline deal.
'Harry, Meghan and Archie will always be much loved members of my family,' the Queen said in a statement.
'I recognise the challenges they have experienced as a result of intense scrutiny over the last two years and support their wish for a more independent life.'
Andrew — who has retained his HRH title — went shooting on the Queen's Sandringham estate in Norfolk over the weekend before joining her and Prince Philip, 98, for lunch.
The 59-year-old sat alongside his mother, 93, on the car ride to church yesterday in their first appearance together this year, after they attended separate services over Christmas.
The Queen's settlement with Harry and Meghan was unveiled just ten days after they revealed their shock demand to 'step back' as senior royals.
The Duke of Sussex, 35, will remain sixth in line to the throne. He will drop all his official military roles and repay the £2.4million of public money spent refurbishing Frogmore Cottage, the home the Queen gave him in Windsor Castle's grounds.
But he is expected to keep the estimated £2million a year he receives from Prince Charles. And the agreement clears the way for him and Meghan, 38, to potentially make hundreds of millions of pounds from commercial deals. The issue of who will pay the couple's annual seven-figure security bill remains unclear.
Speaking last night at an event in London in aid of Sentebale, a charity for African children which he co-founded in 2006, he hinted at his unhappiness over the Megxit deal.
He said: 'Our hope was to continue serving the Queen, the Commonwealth and my military associations. Unfortunately, that wasn't possible'.
He added: 'It brings me great sadness that it has come to this.'
The duke also told the audience: 'I also know that you've come to know me well enough over these years to trust that the woman I chose as my wife upholds the same values as I do, and she does, and she's the same woman I fell in love with. We both do everything we can to fly the flag and carry out our roles for this country with pride.'
The duke insisted he would be standing by the Queen. He said: 'I will always have the utmost respect for my grandmother, my commander in chief.
'I will continue to be the same man who holds his country dear and dedicates his life to supporting the causes, charities and military communities that are so important to me. We are taking a leap of faith, so thank you for giving me the courage to take this next step.'
Tiggy 'godparent to baby Archie'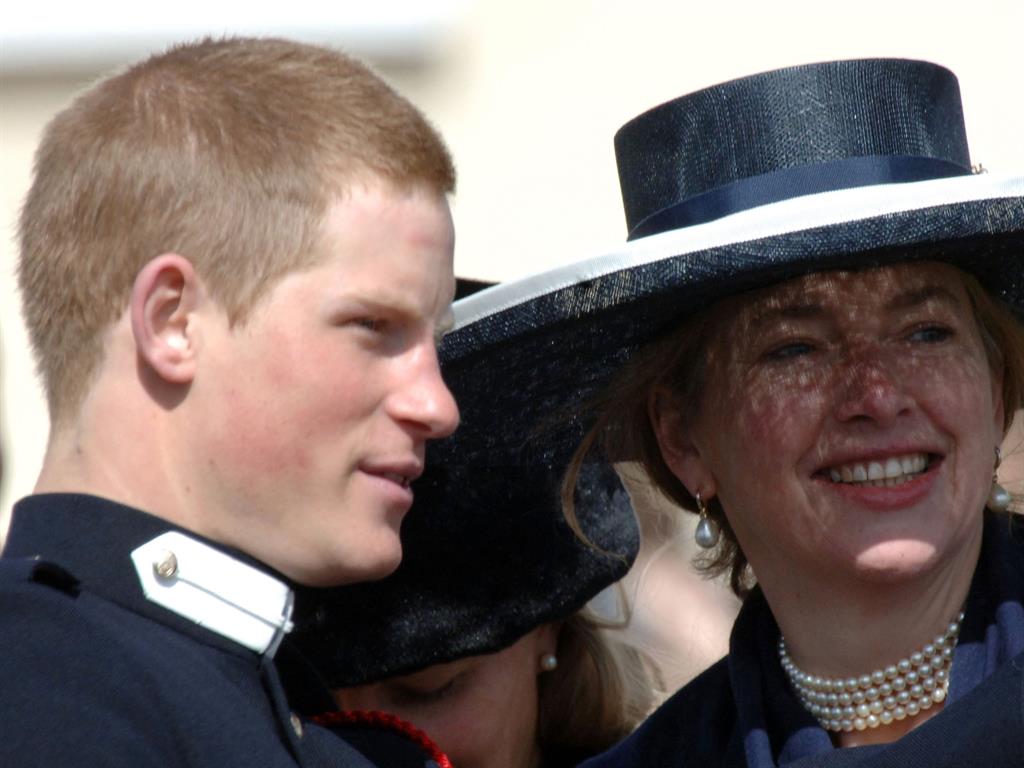 TWO of Harry's childhood mentors who supported him after his mother Diana's death are godparents to baby Archie, it is claimed.
Tiggy Pettifer, Harry and William's former nanny, and Mark Dyer, his minder, were asked by the Duke and Duchess of Sussex to be their son's godparents before his christening in July, The Sunday Times said.
Harry's friend Charlie van Straubenzee was also named as a godparent by the newspaper last year.
Mrs Pettifer, 54 — formerly Tiggy Legge-Bourke — looked after the young princes between 1993 and 1999 and is said to have become 'something of a mother figure to them' after Diana died in 1997.
Mr Dyer, 53, known as 'Marko' to his friends, was described by Harry's biographer Penny Junor as 'one of the few people who talks some sense' into him during previous tough times.
At the time of Archie's christening the palace said the names of the godparents 'will remain private'.