STRANDED truck drivers facing their third night with little to eat and nowhere to stay except their lorries were given Christmas cheer — by the Salvation Army.
Around 4,000 trucks lined the M20 and local streets in Dover or parked in rows on a former RAF base. Drivers were mostly Europeans trying to get home.
After EU pleas, France last night lifted the ban on planes, trains and boats it had brought in over fears they would bring with them the highly infectious strain of Covid-19 spreading across Britain.
It said all travellers must have PCR tests, which take up to three days for results. But sources last night said it had agreed to allow hauliers through with rapid lateral flow tests, which typically come back within an hour. In each case, travellers must show a negative result.
The agreement offered truckers hope of getting home and helped ease fears of food shortages here.
However, German Ronald Schroeder, 52, said he felt like 'Robinson Crusoe on an island' when he realised he may miss Christmas. He had teamed up with others to hire scarce hotel rooms. 'Three are renting just one room to have a toilet and a shower,' he said.
'The situation becomes more and more worse every hour.'
A Romanian driver said he tried to explain to his seven-year-old daughter why he would not be home. 'She says, "You have to come, I wait for you. We have to make the tree for Christmas."'
Kent council had earlier been criticised for offering each driver a cereal bar. Road Haulage Association director Rod McKenzie called it 'a pretty poor effort, I think in terms of maintaining their morale and their spirits.'
But one exasperated council source insisted it was not their job to feed truckers who had been warned to stay away, adding: 'Perhaps he can bring his own f***ing cereal bars.'
Instead Kent's Sikh community delivered 800 hot meals and the Salvation Army helped police distribute food. 'Salvation Army volunteers have been pleased to roll up their sleeves to support drivers,' a spokesman said.
More than 50 countries have still closed their borders to Britain in fear of the new strain, which yesterday helped push the UK death toll up 691.
Andrew Opie, British Retail Consortium director of food, warned borders would need to be running freely by this morning 'to assure us that there won't be any disruption to supplies of salads, fresh fruit groceries.'
Although lorries are still arriving in Dover from France, the main problem was empty lorries stuck in Kent unable to head back to the continent to reload and resupply UK stores, he said.
Logistics UK chief executive David Wells, said: 'I think there is an element of this which is political.
'The French are able to demonstrate they are going to flex their muscles. This is an opportunity for the French to show this could be difficult.
'You would be naïve to think discussions about fishing quotas were not in the back of Macron's mind when he made the decision on Sunday night to shut the border.'
And, as frantic last minute negotiations on a Brexit trade deal continued ahead of the December 31 deadline, veteran EU politician Guy Verhofstadt had a dig — warning that border chaos could be the new normal.
'We forgot what borders look like,' the former head of the EU parliament's Brexit committee gloated. 'They will now start to understand what leaving the EU really means.' Announcing the lifting of the travel ban last night, French transport minister Jean-Baptiste Djebarri said: 'Planes, boats and Euro-star trains will resume service tomorrow morning. French nationals, people living in France and those with a legitimate reason will have to be carrying a negative test.'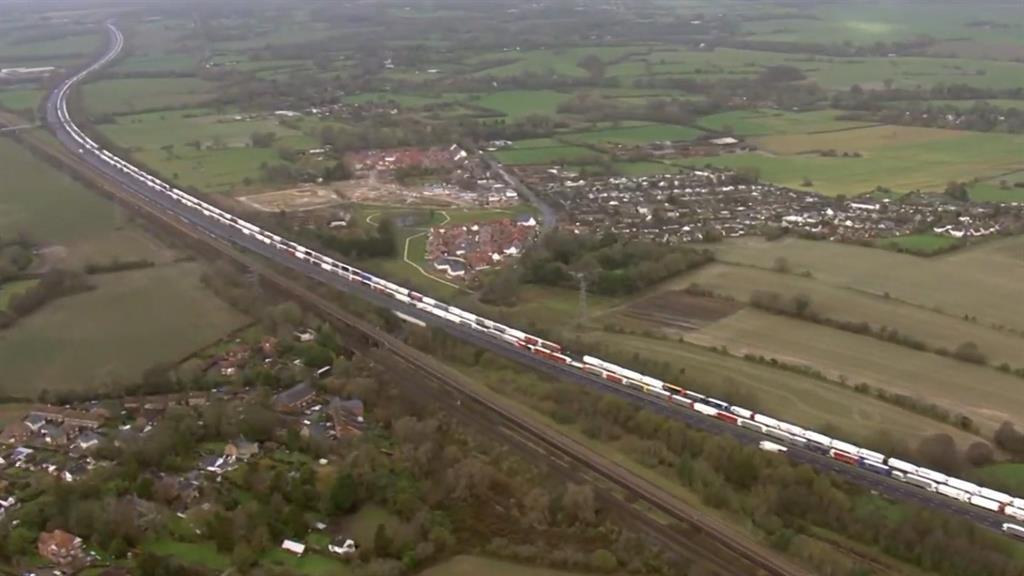 Transport secretary Grant Shapps said there had been 'good progress' and added: 'France had agreed to accept the results of "lateral flow" Covid tests which have been used in other mass testing programmes.'
Richard Burnett, of the Road Haulage Association, warned: 'Drivers who test positive will be unfit to drive but where will they go?
'They will be unable to quarantine with their families in Europe.
'It's exacerbating the very situation it was supposed to prevent.'
The backlog near Dover could take three days to clear and the number of lorries could reach 8,000 by Christmas.
County council leader Roger Gough said 3,000 lorries were parked up on the M20 motorway, the Manston Airfield emergency depot, the town's seafront and nearby roads. 'Clearly the longer anything goes on, the more difficult it becomes,' he added.
And the Food and Drink Federation said another 4,000 trucks would arrive as soon as sailings started.