■ Wales considers circuit-breaker lockdown
THE Welsh government is looking 'very carefully' at introducing a circuit-breaker lockdown in Wales, the First Minister has confirmed.
Mark Drakeford said the 'short, sharp' lockdown could last for between two and three weeks, with a decision due to be announced on Monday.
The Welsh Labour leader also suggested Wales could introduce a new set of national restrictions after a successful reset of the virus, after warning around 2,500 people in the country are currently being infected every day.
It was also confirmed that a travel ban preventing people from areas of the UK with high levels of coronavirus from entering Wales will come into force from 6pm on Friday.
The restriction will prevent travel to Wales from areas in England in Tier 2 or 3, as well as the central belt of Scotland, the whole of Northern Ireland, and any other areas which are categorised as high prevalence in future.
Mr Drakeford said introducing a circuit-break is the 'the option that is most actively under consideration' for reducing levels of Covid-19.
'This would be a short, sharp shock to the virus which could turn back the clock, slowing down its spread and buying us more time and vital capacity in the health service,' he said.
'A firebreak would also, however, be a short, sharp shock to all our lives. We will all have to stay at home once again, to save those lives.
'But this time, it will be for weeks and not months. We are considering a two or three-week firebreak. The shorter the period, the sharper the measures will have to be.'
The introduction of local lockdowns in 17 areas of Wales affecting more than 2.3 million people had slowed the virus, he said, but had 'not worked enough'.
■ Wetherspoon makes first loss since 1984
JD WETHERSPOON chairman Tim Martin said he was unable to 'rule out' future job cuts as the company reported its first annual loss in 36 years.
The pub chain reported a loss of £105.4million after sales took a £556million hit from the Covid-19 crisis.
The company said it saw an increase in business in the weeks following the easing of lockdown but the new restrictions and a 10pm curfew have seen this fall back.
Founder Mr Martin said it was 'difficult' to say how long the chain could last without further fundraising, adding it 'kind of depends on the government'.
He said: 'We can last for a decent amount of time, possibly a year or two, but if everything goes into Tier 3 (restrictions), it will shorten the times.'
Asked if he would be forced to "reduce headcount", Mr Martin said: 'You can't rule anything out at the moment.'
The company suffered a £29million hit from one-off costs due to coronavirus, including £5.9million in drinks and food that had to be thrown away, £6.2million on PPE, screens and other equipment to make pubs Covid-secure, and £17.1million on staff costs.
However, it also benefited from a £15.9million payout from HMRC over a long-term gaming machine dispute.
The loss is the first time the chain has sunk into the red since 1984 but the company remains confident that it can continue to trade.
■ Raab accuses Russia of 'shabby' disinformation over coronavirus vaccine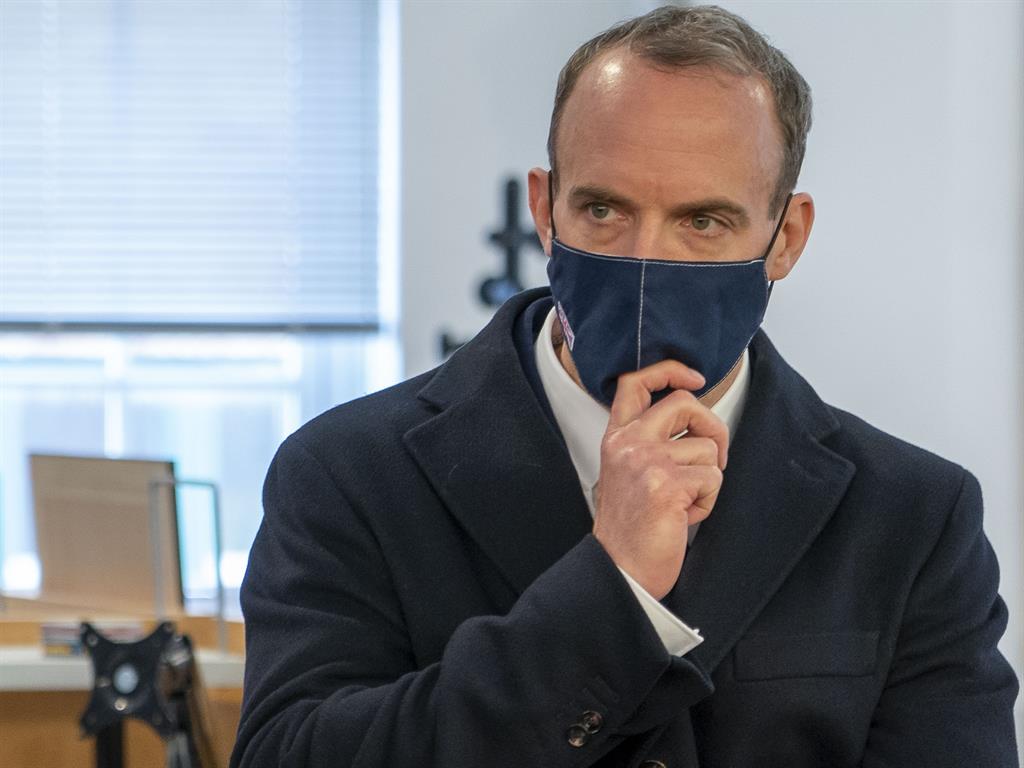 FOREIGN Secretary Dominic Raab has condemned a reported Russian disinformation campaign to undermine confidence in a British coronavirus vaccine as 'utterly deplorable'.
Pictures, memes and video clips designed to induce fear about the vaccine being developed by Oxford University have been created in Russia with a view to spreading them round the world through social media.
The crude imagery suggests the vaccine could turn people into monkeys because it uses a chimpanzee virus as a vector — even though it is a common practice in vaccine development.
The paper said the campaign is being targeted at countries where Russia wants to sell its own Sputnik V vaccine, as well as at Western nations.
Mr Raab (pictured) warned that the campaign could cause damage at a time when the world should be coming together to fight Covid-19.
'It's a shabby piece of disinformation but it is very serious because it is an attempt to disrupt the attempts to find a safe vaccine,' the Cabinet minister said.
'We know that Russia has a track record of using disinformation as a foreign policy tool, but actually any attempt to spread lies about Covid-19, and the vaccine in particular, when we're trying to come together as an international community to resolve a global pandemic is utterly deplorable.'
■ Pret a Manger to axe 400 more jobs
PRET A MANGER is to close six more shops and cut about 400 jobs after its recovery slowed in the face of recently tightened restrictions and rising Covid-19 case numbers.
It comes just two months after the coffee and sandwich chain axed 2,800 roles as part of a restructuring in which it closed 30 sites.
The food-to-go retailer said it has enjoyed 'consistent sales growth' in the past four months since but this has 'slowed since the end of September'.
The locations of the affected stores have not been announced but it is understood they are all based in London.
Clare Clough, Pret's UK managing director, said: 'We are doing everything we can to support our team members and to prevent further job losses at Pret.'
The chain has looked to diversify its operations in recent months to drive its recovery and has revealed a monthly subscription service for customers.
Earlier this week, Pret announced its first service station site in a partnership with Moto, with the first due to open in December.