1. Zero to Hero
Nine Elms No.18, England, £19.95, Master of Malt, masterofmalt.com
With one in five identifying as teetotal nowadays, booze-dodgers are in for a treat this month. Billed as the first non-alcoholic bevvy designed to complement good food, this is poured at some of the swankiest restaurants around the country. With a blend that includes flavours of 20 herbs, spices and flowers, and the juice of four berries, it acts like a red wine despite containing zero grape juice, with an olive-style twist on the finish.
2. Fizzy Rascal
So Jennie, 0% alcohol sparkling wine, £31.95, Fortnum & Mason, fortnumandmason.com
I usually take zero-alcohol wines with a pinch of salt; often cloyingly sweet, and clearly lacking that comforting kick of alcohol. This one breaks the mould, pitched as the first luxury, non-alcoholic sparkling drink, it's served in first-class flights and Michelin-starred eateries the world over. Produced in Paris from red and white grape must: gamay, chardonnay and muscat, it has no added sugar, sulphites or preservatives and is low in calories.
3. Bitter-sweet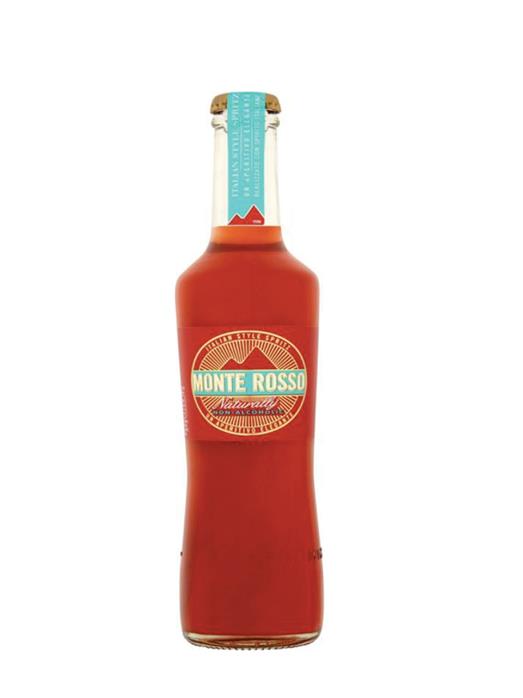 Monte Rosso non-alcoholic aperitif, £2.55, Ocado, ocado.com
With beer and wine replacement options rife, what's an Aperol spritz drinker to do? Bingo. Here's a bitter-sweet aperitif-style bevvy, think Aperol minus the punch. You have it on its own, or blend in some So Jennie sparkling. Slightly sweeter in profile, but it's all about the bitter finish here. You might want to whack in a tonne of ice and a slice of pink grapefruit to pump up the tang.
4. Bit Of All White
The Boar No More, £7.99, Laithwaite's, laithwaites.co.uk
Finally, a decent, dry white wine sans alcohol. Made by one of Germany's premier winemakers, Johannes Leitz, the vineyards are located near Frankfurt in the Rheingau region, specialising in the riesling grape. A bit like biting into a Granny Smith's apple, if you like that kind of thing, with a teasing note of lemon sherbet on the finish. Worth a shot at barely over a fiver, chill down nicely to tempt out the tang.
5. Get Red-dy
The London Essence Co. elderberry & hibiscus soda, £1.85, ocado, ocado.com
We're basically spring adjacent now, time to reach for something refreshing. This is essentially a grown-up soda, that works as well on its own or cut with harder stuff. Crafted from a blend of English elderberries and hibiscus essence, for a pop of floral with a slightly woody, yet lip-smacking finish. The London Essence Co uses traditional distillation techniques and top bartenders to develop their range, and the best bit, only 20 calories per 100m.
6. Rum Do
Stryyk Not Rum, £16, Ocado, ocado.com
With drinking levels at their lowest since 2005, we're all getting a tad over the hard stuff. With a number of replacement versions of our fave spirits out there, frustratingly most are watery copies that don't really cut it. Cue the founder of Funkin cocktail mixers, who has come up with a clove, oak and grapefruit blend that suggests the spirit in the title, with that all-important kick of chilli extract on the finish.
7. Set yourself adrift
Pentire Adrift, £25.95, Master of Malt, masterofmalt.com
The next best thing to breathing in Cornish sea mist, with that bracing saline twang teasing your taste buds. Slightly more costly though. Essentially, this is a non-alcoholic spirit made from distilling down plant life from the coast of Cornwall, the likes of rock samphire, sea fennel, sage, sea rosemary, Cornish sea salt, or really anything with 'sea' in the title. With a dash of tonic, this blend quenches the craving for something a little salty.
8. Happy New Beer
Lucky Saint 0.5% Unfiltered Lager, £1.80, Sainsbury's, sainsburys.co.uk
A slight cheat with a mere 0.5% alcohol, but with over 400 years of brewing expertise behind this, there's no chance of beer FOMO. This one nails the duping game, lacking that sweet component that's a give-away with low-alcohol ales. The brewery has developed new techniques to achieve a crafty element, with the lack of filtration bringing all kinds of malty goodness to the table. Brewed with super-pure Bavarian water, a citrus kick on the finale makes for a delightful drinking experience.
9. That's the spirit
Seedlip Grove 42, £26.50, Waitrose, waitrose.com
This game-changing booze-free brand, set up by pea famer turned entrepreneur Ben Branson, has swiftly established itself as the pack leader. This blend brings warming botanicals, with a kick of orange, lemongrass and ginger. Botanicals and spices are sourced from around the world and distilled in copper pot stills to mimic the properties of a spirit. Close your eyes and it makes a serviceable substitute.