■ Lockdown is taking its toll on the busiest room in the house — the kitchen. Nicola Lewis, founder of This Girl Can Organise, shows us how to regain control
SINKING FEELING
Washing up isn't high on most people's fun list. And with three meals a day, the kids using every glass going, endless empty mugs from the working from home conference calls stacking up, the sink isn't a pleasant sight. And there's nothing more demoralising than trying to cook dinner when the worktops are still littered with the dirty pots and pans from the lunchtime feed. It's best to clear up after every meal. Place what you can into your dishwasher. Get the kids involved and don't forget to praise them. Then set a timer for 15 minutes and wash and dry it all in one go.
SNACK ATTACK
How many times have your kids ransacked the cupboards or fridge looking for snacks and drinks? Say hello to the This Girl Can Organise snack station. Give each child a designated container or lunch box and fill with their snacks for the day and a water refill bottle. This method teaches them that when a snack is gone, it's really gone. This will also encourage them to eat and drink healthily, allowing you to keep an eye on what they are actually consuming. It works well for grown-ups too!
HAVE A GREEN STAR
Sick of throwing away plastic fruit containers that can't be recycled? Then repurpose them as baskets for the fridge for veg or under the sink storage containers to give your small loose items — like dishwasher tablets, batteries, cloths, garlic or onions — a new home. Glass food jars are useful for storage as they stack well in drawers and contents can been easily seen. Takeaway containers are great for leftovers. Batch cooking can also save hours at the stove.
COLD COMFORT
When it comes to organising your fridge, prep and plan will always save the day. Seeing what you have will ensure you use it, ultimately saving you money, time and waste. We tend to buy the same food items each week so I recommend placing what you can into containers. This helps with food prep and keeps food fresher for longer.
CHIP AND BIN
What is it with cutlery and crockery? We keep acquiring more and wonder why we can't close the drawer or cupboard! Lockdown is a good time to clear out to make more space. Empty the drawer or cupboard and place items into four piles: keep, donate, recycle, bin. Start by getting rid of chipped plates, things you never use and anything you just don't like. Then work out how many place settings you really do need. Keep the items you love. It doesn't matter if there's a mismatch, as long as you use them. This is also a good time to clear out your kitchen junk drawer using the same principles.
STOW AWAY
How many random purchases have you bought during lockdown? Now you need to consider where they're going to live once they arrive. If appliances are only used once or twice a week, do they need to be out on your worktop? Store infrequently used appliances in a cupboard, making sure it's in perfect view when needed. This will give you less clutter and more worktop space, which is crucial when spending so much time at home. If you have an appliance you don't use, be ruthless: donate or recycle it.
ORDER, ORDER
Save on time and frustration by bringing much needed calm to your cupboards with some serious structure. Remove the contents and sort into category piles, disposing of out of date items and donate unopened items you won't use to your local food bank. If you've got lots of open bags of dried pasta, cereal and rice then consolidate them into clear storage containers with a lid to keep them fresh and visible for all to see. Cut out the expiry date on the food packet and tape it to the container.
JOB SHARE
During isolation the one thing keeping us going is structure and routine. Juggling expectations, school, work and home life is tricky — so discuss as a household what jobs need doing and then devise a low-key rota so everyone knows exactly their duties. That way the chores aren't left to the first person to crack. Swap jobs around weekly for variation.
STOP STOCKPILING
Most of us go into autopilot when it comes to doing the weekly shop. Save time and money by writing an inventory of what you already have in the cupboards, fridge, and freezer to avoid stockpiling and being let down by expiry dates. I stick lists inside the kitchen cupboards to make it easier to monitor. You can also jot down items you're running out of.
FIND A HOME FOR TOWELS
Tea towels get in the way, so find a practical home for them. It could be inside a container under a cupboard, amongst your cleaning products or maybe in its own kitchen drawer. I prefer to organise them into neat rectangle parcels and then place them into rows.
■ Nicola Lewis is a professional home organiser. Her book Mind Over Clutter is available from £5.54 at amazon.co.uk; Instagram @thisgirlcanorganise
Throw in the tea towel…
■ Amy Winehouse tea towel, £12.99, Prezzybox, prezzybox.com
■ Ulster Weavers Moroccan Tiles cotton tea towel, £5, Dunelm, dunelm.com
■ Bournemouth Pier, Dorset tea towel by Tabitha Mary, £14.99, Not On The High Street, notonthehighstreet.com
■ Tropical Palm tea towel, £4.95, Rex London, rexlondon.com
■ Third Drawer Down Magda Archer tea towel — Suckers, £35, Amara, amara.com
■ Cool To Be Kind tea towel by That's Nice That, £14.75, Amazon Handmade, amazon.co.uk/handmade. Until June 15 Amazon Handmade will donate 12 per cent of sales commissions to NHS Charities Together.
■ Victorine Pre-washed Linen tea towel in natural or caramel, £12 for pack of two, La Redoute, laredoute.co.uk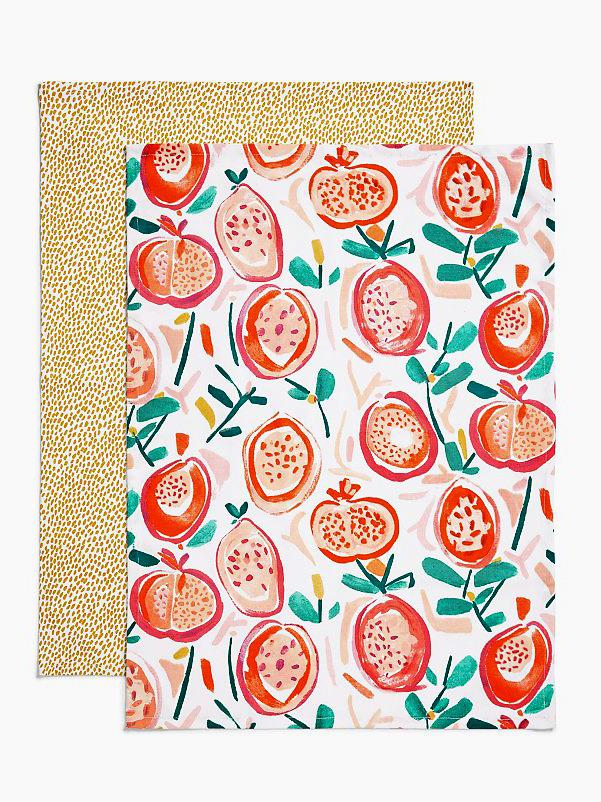 ■ Pomegranate tea towels, £10 for pack of two, John Lewis & Partners, johnlewis.com
■ Whales Statement tea towel, £9, Sophie Allport, sophieallport.com
■ Artist Collection tea towel, Caviar, £9, Polkra, polkra.com
■ Bee Friendly tea towel, £10.50, Poppy Treffry, poppytreffry.co.uk
■ Alvar Aalto kitchen towel in linen-yellow by littala, £11, Nordic Nest, nordicnest.com