MOST authors prefer to lock themselves away in a study to write their books. Not Lisa Jewell. While her fabulous blue-painted kitchen is the heart of her family home, it's also the place she has written 17 novels — of which more than 4.5million copies have been sold worldwide, in more than 25 languages.
As you might expect from such a successful storyteller, there's a similarly interesting backstory to her home. Lisa and her husband Jascha first moved into the four-storey Victorian house in London's Swiss Cottage in 2002, when Lisa was pregnant with their first child, Amelie.
'We had looked at 45 properties,' she says. 'We wanted that magical moment where we felt we had to buy the house as soon as we walked in. When we first saw this place, it was a three-bedroom maisonette over the two bottom floors. It was all magnolia.
'I didn't think "Wow — this is it!," but it was a good price in a good location, so we bought it as the situation was becoming ridiculous.'
Four years later, Lisa was pregnant again and the family wanted more room. They asked their upstairs neighbour about the possibility of adding an extension. Instead, he offered to sell them his own half of the house and the two maisonettes were put back together as one large family home.
After the building work, Lisa decided to save money on the refurb by trying to spruce up the place with some DIY interior design experiments. She admits the results fell flat.
'We didn't want to throw too much money at it, so we ended up keeping things like the yellow laminate flooring upstairs and the draughty windows. And there was sewage coming through the pipes in the upstairs bathroom as there were plumbing problems. I wanted to add character, so filled up the house with bric-a-brac and trash from eBay. It just looked wrong.
Then I started collecting art nouveau vases — and ended up with a shelf full of vases that collected dust. I also bought a lot of picture frames and put them all about the place — but it just made the house look cluttered.'
In the end, a complete overhaul was the solution.
'It started weighing heavily on my psyche. I've always worked from the kitchen table and I knew there was stuff everywhere. You're constantly aware of what needs doing and that you haven't painted your house for 16 years. It was starting to depress me.
'I was flicking through an interiors magazine, saw a picture of a room and thought ''I want my whole house to look like that.'' So I phoned the company [The Vawdrey House] who had done the room.'
The couple were well and truly hooked when they were shown some floor tiles featuring a snazzy geometric pattern.
Originally, Lisa only planned to renovate the ground floor, but she was so impressed by the designer's plans that the whole house was restructured over an eight-month period.
Walls were moved on the top floor, creating two large bedrooms and a bathroom; an office was moved from the first floor to the basement, leaving the first floor with two bedrooms and two en-suite bathrooms; and a guest bedroom was added to the basement.
Lisa's favourite changes are on the ground floor. A wall was moved and, while the living room is slightly smaller, the kitchen now boasts a swish island.
'The living room was so big my daughter used to do cartwheels in it,' Lisa says. 'Now we have a cosier living room and a more lifestyley kitchen.'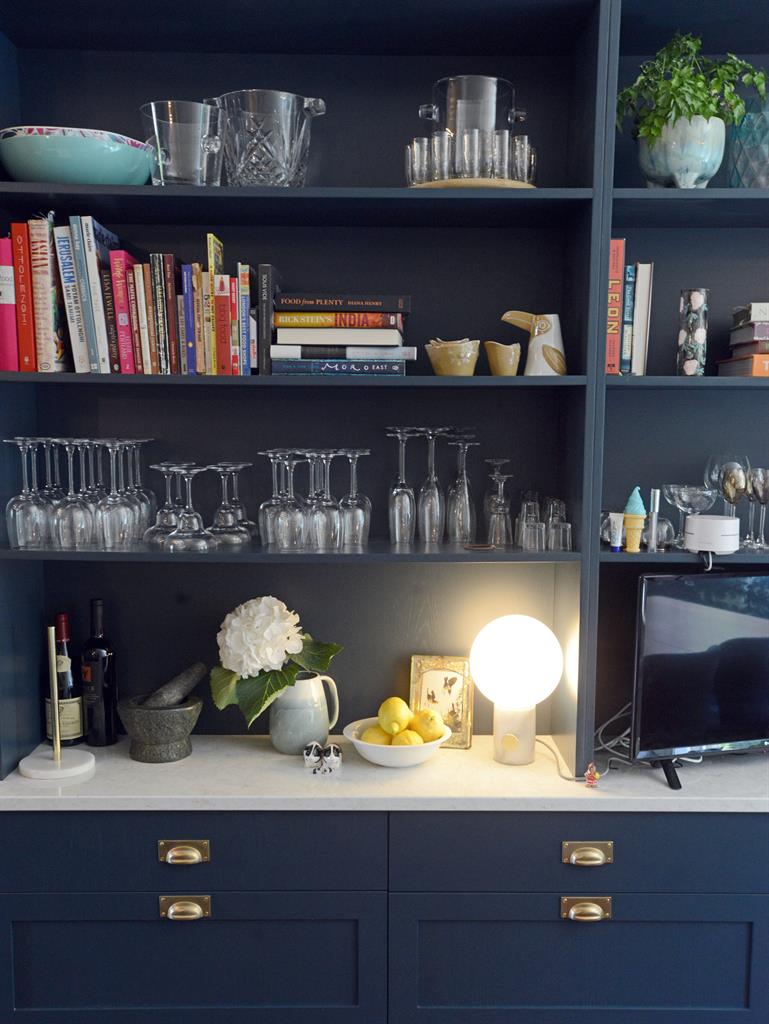 Her favourite feature is the new pocket doors, which roll open to make the ground floor open-plan or can be kept closed to create separate living room, kitchen and hallway spaces.
'We lived open-plan for a long time and didn't have a way of shutting out the noise of the kids watching TV — and now we do,' Lisa says. 'We can move these walls and have the option of a big, open-plan space or something cosier and more grown-up.' The building work also led to lifestyle changes. The family had to pack up their belongings and move out for eight months. Upon their return, Lisa insisted on less clutter.
'I gave away more than 1,000 books,' she says. 'I had a huge bookcase which filled a whole wall in my bedroom. I'm never going further again than filling the two small bookcases I have now. I found it liberating to get rid of so much stuff.'
Lisa's latest thriller, The Family Upstairs, also features an interiors theme. One of the storylines is told from the perspective of an 11-year-old boy whose lavish family home is slowly emptied by a sinister svengali figure until the house ends up an empty shell.
'It's the opposite of this,' Lisa laughs. 'They don't feel liberated by getting rid of their stuff. It all ends with three dead bodies on the kitchen floor…'
■ The Family Upstairs, by Lisa Jewell, is out now, published by Century, £12.99