IBIZA is the ultimate clubber's paradise where Jade Jagger, Kate Moss and a bevy of their famous friends partied night and day back in the 1990s.
But in recent years, the White Isle has reinvented itself as a more serene destination, attracting a sophisticated crowd which rates the right thread count as highly as the DJs behind the mixing decks.
Nowhere is this more evident than at the Legado Finca. The brainchild of stylist and event planner Andreas Lackner, he and boyfriend Andreas Oberkanins bought the dilapidated 18th-century farm in Santa Eulalia des Riu, in March. And within three months they had transformed it into a small, luxurious home-from-home boutique hotel.
Cheap 1970s tiled floors, pine woodwork and dated bathrooms have been replaced with a clever mix of reclaimed stone, olive wood beams, back-on-trend wicker and bespoke, rusted metal furniture set against simple whitewashed walls.
'I wasn't aiming for chic or cool but homely, cosy and relaxing, like an old-fashioned living room,' says Andi, who started his career as a make-up artist with Cindy Crawford and Claudia Schiffer.
The devil is in the detail. Kitsch collectibles, and trashy, holy figurines from local street markets and auctions sit happily alongside vintage heirlooms. You can sip a G&T from an exquisite Murano glass tumbler while admiring the comical 'Brits abroad'-inspired collection of 1970s wicker donkey heads, with colourful wool trim, which Andi rescued from a local shopkeeper who was about to dispose of them.
'The donkey heads are very funny. They are old, and although you can find new ones, they don't have the same colourful wool halters. The shop owner was about to get rid of them so I bought them all! I like to break up the coolness with trashy bits which don't cost much, and which make you smile. Humour is everything.'
He has embraced the resurgence of raffia and wicker elsewhere, using traditional Spanish parasols on the roof terrace and customising straw hats and platters by dabbing them with water and oil and leaving them outside to bleach naturally in the sunshine.
'I like things which look a little bit old or used and I love to mix things up. This is what I call a "pop-rustic" revamp.'
Favourite local hunting grounds include interiors warehouse Sluiz, flea markets and Santa Gertrudis, where villa owners hold impromptu house contents auctions in the street. 'Everything is placed on the roadside and people drink wine, chat and decide what to buy. I found a lot of our shelving there.'
What Andi can't source locally, he designs himself, teaming up with local craftsmen, including construction welder Luciano, who made the distinctive rusted pool daybeds jutting out over the pool (Andi's hand-made fabrics cover the mattresses and scatter cushions) as well as bed frames, radiator screens to hide ugly heaters and tables and chairs for the soon-to-be-opened restaurant.
'We created high headboards for the daybeds and planted agave and bougainvillea so that you can lie there in privacy and not feel everyone is watching you. They also protect against the wind.
'Luciano had never made furniture before but I persuaded him to work from my drawings. He is so proud, now he brings all his friends here to show them.'
The seven bedrooms are simply furnished with Luciano's bedframes, super-firm mattresses, pillows and linens from the Czech Republic. Colourful kitsch ornaments and religious figurines are displayed in deep alcoves within the foot-thick walls. 'A place can be stylish but if you're not sleeping like a baby, nothing else matters,' adds Andi. 'We built the bed frames high like they did in the old days to minimise the cold draughts from the floor. Our guests definitely approve!'
Each headboard is created from Andi's textile designs, which feature throughout. 'I found an old piece of needlepoint, enlarged it and had it printed as a headboard. Another is made from antique lace which was blown up and scanned. The hotel is a showroom for my work.'
Wardrobes were customised with help from an Ibizan resident who collects driftwood, iron and other debris from the beach, to rework into unique hanging rails in open doorways. His discarded gas lamps were sliced in half and remodelled into bedside lamps.
Bathrooms and showers feature floors and moulded sinks made from micro-cement, adding a modern edge, alongside old beams and heavy wooden doors preserved in the adjacent former stable block, where some of the bedroom suites are.
The refit wasn't without drama, however. 'I ordered a bath tub which was too large to go up the staircase so we had to widen a window and winch it through,' he laughs. 'And I designed some chairs before measuring the doorways so they have to stay outside because I can't get them into the building!'
The pool was less of a headache. 'It was a great size but baby blue, a colour I can't stand — we're not in Miami! So we painted the tiles dark grey instead. It looks so beautiful now — day and night — against the rusted metal loungers.
'I built the poolside bar from wood found on our land and in local yards. You don't have many resources on an island so finding, retouching and giving new life to old stuff is very rewarding.'
Next year, Andi will create seven further bedrooms and start growing fruit and vegetables on the farm's three hectares of grounds.
'For now, our neighbour gives us garden produce to cook and make jam with. All he asks for is a big dinner with us every season.'
Legado's home-from-home vibe is one of which Andi is justly proud. 'This is what I dreamed of creating when I was a little boy — a big playground for my ideas and for people to enjoy and have fun with.'
■ Legado-ibiza.com offers doubles from £195 per night
Wicker world: Get the look
Donkey work
Forget lugging a donkey back from Spain, hang up these straw heads instead for instant vacation charm. £55, homeaddress.co
Basket case
The Abayomi seagrass basket will create extra storage for any untidy corner of your home. £35, oggetto.com
Hairy business
No room for a rattan parasol? This handmade Moroccan natural straw lampshade will add a boho, villa vibe to any space. £40, rockettstgeorge.co.uk
Hats off
A stash of Fedora hats will keep you cool in the sun and look pretty cool on the wall, too. From £6, oliverbonas.com
Mat attack
Jute mats = holiday-at-home vibes. And the handwoven, Zira rugs come in a palette of feel-good hues for year-round sun, whatever the weather. £189-199, modern-rugs.co.uk
Fringe benefits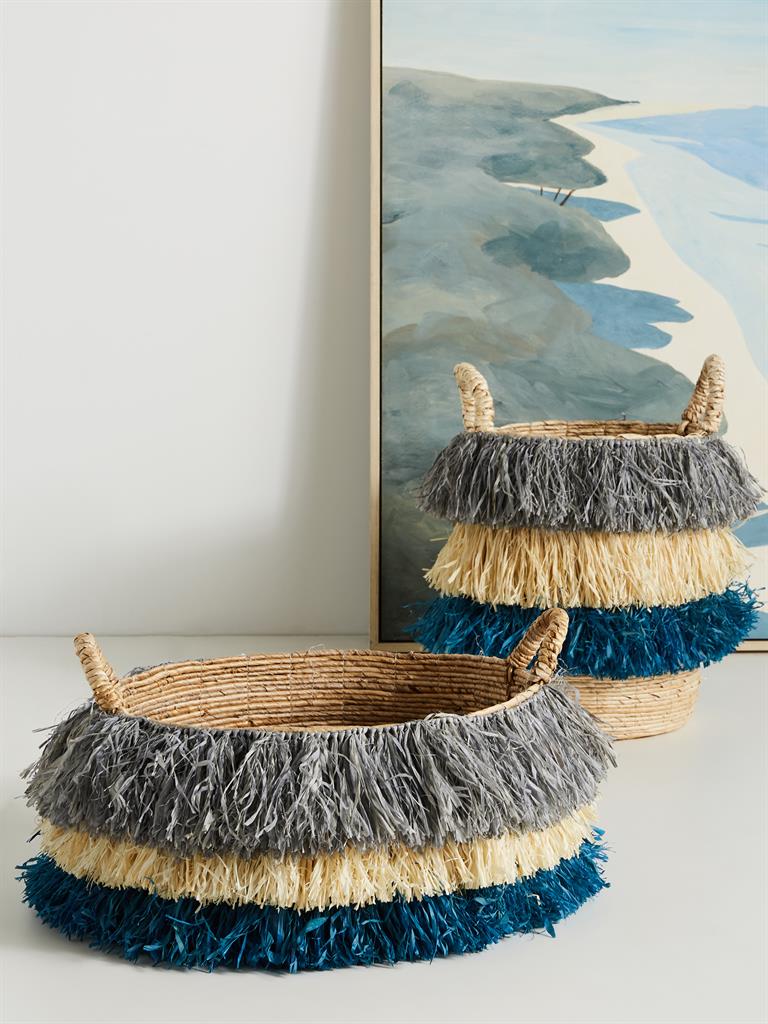 These Tahitian baskets with textured fringework are perfect for stacking towels or chucking in your dirty laundry. From £148, anthropologie.com
Tribal chic
Handwoven by Berber tribes in the Sahara Desert, each one of these raffia and wool Sahara pots is unique. We want several… From £36, yonderliving.com
Bowled over
Pile fruit into these eco-friendly natural jute and seagrass bowls. From £6, notonthehighstreet.com