THE outer reaches of our solar system could be hiding a new planet, say scientists. While the new world — the ninth or tenth orbiting the Sun, depending on if you count Pluto as a planet — is yet to be seen, astronomers are certain it exists because of the wonky orbit of icy objects beyond Neptune.
This region of space, known as the Kuiper belt, starts on the other side of Neptune and ends 55 times further from the Sun than Earth.
Objects in the belt are far enough away to escape the gravitational pull of the known planets, and orbit the Sun at different, but predictable, angles.
Dr Kathryn Volk and Prof Renu Malhotra at the University of Arizona have uncovered signs of weird warps in the orbits of these objects.
This hints there is something lurking out of sight, tugging on the bodies we can see. To cause this warping, an object would need ten times more mass than Earth, they say. This indicates the existence of a new planet.
It may have arrived there after being ejected in an ancient game of gravitational billiards, Dr Volk said. 'If it's the size of Mars, that is a pretty big object, which would suggest it would be most likely scattered out there by planetary movements further in,' she added.
Last year, Profs Mike Brown and Konstantin Batygin at the California Institute of Technology used this idea to predict the existence of a ninth planet, orbiting 700 times further from the Sun than Earth.
But Dr Volk and Prof Malhorta say their research indicates the mystery planet is closer to home.
'It's an interesting idea. One that deserves attention,' says Prof Batygin.But given its mass and distance, he argues it should be bright enough to have been seen by now.
Dr Volk said finding more Kuiper belt objects will firm up her data — but she is confident in her research.
'It would have to be a fluke for this to not be a real effect. We think there is a real signal there and this implies an additional planet,' she added.
Artificially intelligent doll plays with your emotions
FEELING sad? Soon even toys around you will be able to tell.
A new doll that can recognise eight emotions — including surprise and happiness — has been designed by a team at the University of Castilla La-Mancha in Spain.
It uses a £100 chip that can run artificially intelligent algorithms and recognise emotions in facial images captured by a small camera.
The team optimised the chip, which means it can run continuously for 13 hours before the battery dies. A standard smartphone doing the same would be flat in two and a half hours.
Unlike other smart dolls, this one does not do any processing in data centres or the cloud, which protects privacy.
Team leader Prof Oscar Deniz said: 'In the near future, we will see a myriad of eyes everywhere that will not just be watching us, but trying to help us.' Advances in AI mean we already have algorithms that can recognise objects, lip read, make basic decisions and more, which could find their way into consumer products.
'We will have wearable devices, toys, drones, small robots, and things we can't even imagine yet that will all have basic artificial intelligence,' added Prof Deniz.
It's fair shares for all as website helps flatmates settle arguments
THOUSANDS of flatmates who fall out over money, chores and who gets the best room are turning to a website to settle their disputes.
Spliddit, which works out the fairest way to decide who sleeps where and for what price, has had an upgrade.
And users' satisfaction scores have leapt to an average 4.2 from 2.9 on a scale of one to five.
Spliddit claims that its algorithms can find fair ways to divide up taxi fares when multiple passengers are picked up from different locations.
It can also assign tasks such as household chores and work shifts.
Why clouds are needed for real ice lolly weather
CLOUDS full of 'ice lollies' have been spotted over Britain — and they could be influencing the weather.
The structures — shaped like a stick with a spherical head — have been spotted over the south-west and, more recently, above the Atlantic.
Environmental researcher Stavros Keppas and colleagues at Manchester university have looked at data from the aircraft that recorded the structures over the ocean and from radar readings in the south-west. The lollies were about a millimetre long and found at altitudes of 1,000 to 2,300 metres.
Humid air rising through clouds generates supercooled water droplets. When these collide with falling stick-shaped ice splinters, the lollies are formed. Mr Keppas suspects they could affect the likelihood of rain.
Associate professor Daniel Knopf, of Stony Brook University in New York, said: 'This is a nice and unique data set showing us again the complexity of the nature of clouds.'
Tweaking genes could make us healthier AND smarter
WHAT makes some people brainier than others? Genetic research hints they have fewer DNA mutations that harm intelligence, rather than more that make them smarter.
An Edinburgh university study looked at the effect of rare genetic variants on the intelligence of 20,000 people, and found these are more likely to be harmful mutations that also impair health. Such mutations build up and intelligence seems to depend on this 'mutational load'. Gene editing to fix this could boost health and intelligence as well.
Weird and wonderful creatures of the abyss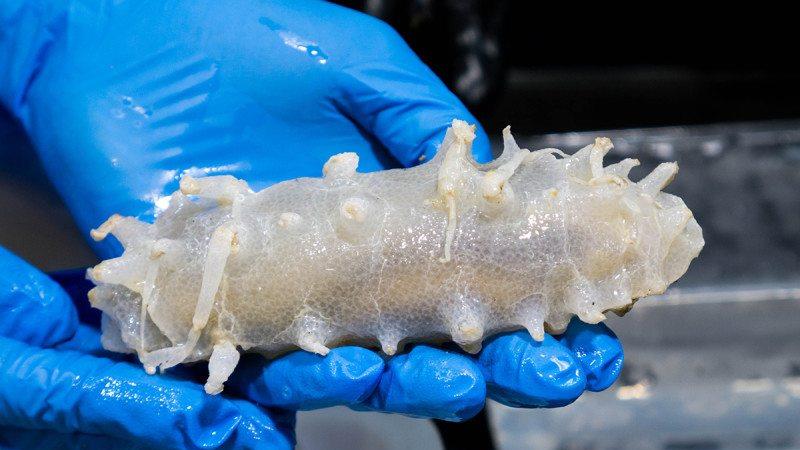 FACELESS fish, giant sea spiders and blobby sea pigs are just some of the weird creatures uncovered in the first deep-sea expedition along the east coast of Australia.
They were found by a team of scientists, led by Melbourne's Museums Victoria organisation, who set sail on a month-long voyage in the research ship Investigator. It followed the eastern edge of the continental plate, where the ocean drops to 2.5 miles deep. Fishing nets and trawling sleds were used to collect creatures from the abyss.
They will now be analysed to determine if they are new species and what families they belong to. It is estimated more than a third of the invertebrates and some of the fish are new to science.
■ Based on stories in the latest issue of New Scientist, which is available in the shops now. For more cool science and technology stories go to newscientist.com