GREG SIMMONDS, 26, and Jonny Stiff, 35, rented in Oxford for years before deciding that it was time to purchase their first home. Excellent transport links were a top priority as Greg, a research manager for a supermarket, commutes to Holborn and Jonny — who works in legal compliance and data protection for an airline — is based near Heathrow.
Although they weren't consciously looking for a new-build, early in their property search Jonny discovered Graven Hill in Bicester, a community of one-off self-build, low-energy custom-build homes where buyers have as much — or as little — input into the overall design as they wish. After doing some research, it quickly became clear that it would be ideal. 'We were previously renting a Victorian terraced house which was dark and had rooms that we didn't use,' says Jonny.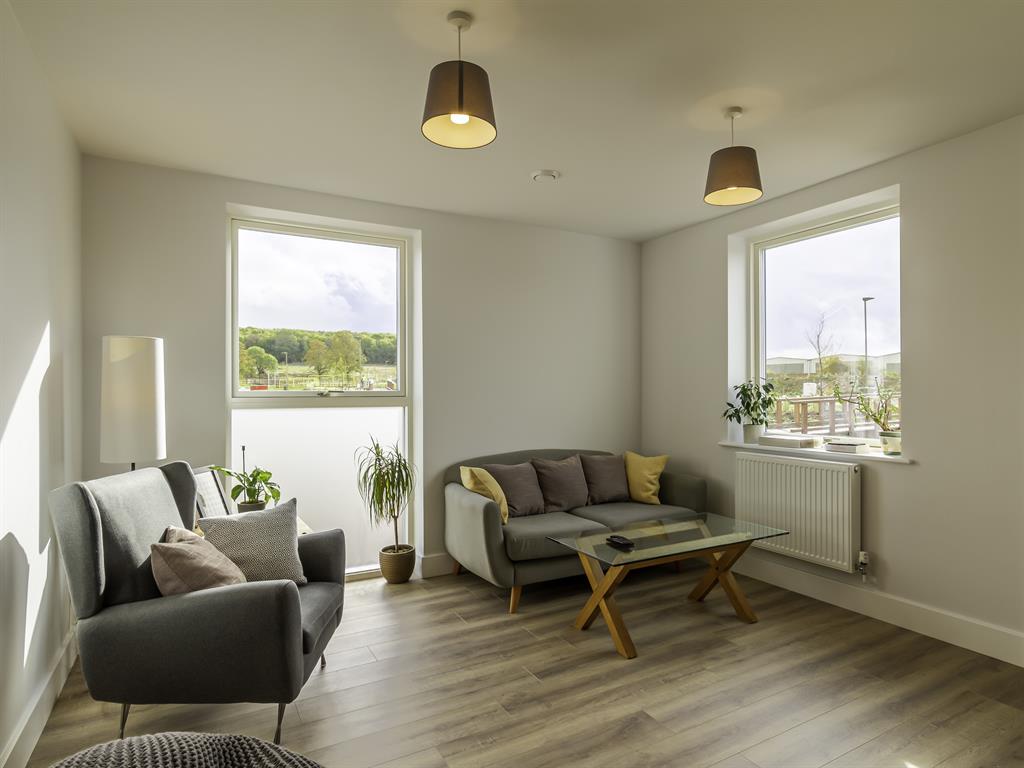 'At Graven Hill, we were blown away by the light and airy feel of the custom-build homes. They were so different from what we were used to in terms of openness and modernity and each has its own distinctive edge, which is something we really love about living here.
'We viewed the site in April, and by May we'd chosen a plot and made the purchase. Everything felt right and thankfully we only had to wait until September to move in.
'Bicester is perfect for both our commutes: I can hop on the M40 junction which is a few minutes' drive, and Greg walks to Bicester Village station, which is 45 minutes on the train to Marylebone.
'As well as buying a house, we've bought a 20-minute lie-in every morning and 20 minutes more to ourselves in the evenings compared to when we lived in central Oxford, so it's money well spent!'
They secured their four-bed, 1,521sq ft home through Help to Buy, which only requires a five per cent deposit, and contributes 20 per cent of the cost as an equity loan that's interest-free for five years and doesn't have to be repaid until the property is sold.
'It's been really helpful not just in allowing us to buy, but in having just enough left over for furniture and other bits and bobs to really make the house feel like ours,' continues Jonny.
'Although we actually bought when the opportunity to customise had passed, the people who had chosen the layout and materials thankfully had great taste, and we're more than happy. Having a blank canvas to put our stamp on has been really exciting. We've become fast friends with John Lewis, Made and Habitat, and quickly discovered that Japandi (a hydbrid of Japanese and Scandi design) is definitely our style.'
So what are their favourite things about the house? 'We've found the inner eco warrior within ourselves, and the Passivhaus certification is a real badge of honour. Triple glazing and insulation mean it's super-quiet and warm at any time of day, and we're saving loads on bills compared to the creaky old house we used to live in. We didn't realise, but the heat recovery system means we get much less dust, since it constantly filters the air — so one less chore, too!
'We'd recommend purchasing a custom build home at Graven Hill to anyone. Even though the site is still young, an amazing community has already been established. It's a place that breeds creativity and individualism, full of unique yet like-minded people that are as diverse as the houses they live in.'
Graven Hill will eventually comprise 1,900 self-build and custom build homes in green space. The custom build houses are extremely energy-efficient and buyers reserving early can personalise layouts and interior finishes. Prices from £315,000 for a two-bed terrace. A four-bed detached house, similar to Greg and Jonny's is £475,000.
Do the maths
Purchase price for a four-bed custom built house: £475,000
5 per cent deposit: £23,750
20 per cent Help to Buy loan: £95,000
Mortgage: Approx £1,421 pcm
Total monthly spend: Approx £1,421