WHAT does a standard snorkelling experience on the Galápagos Islands look like? It could be a face-off with sea lions, surrounded by swarms of pearly-grey fish. Today, however, it's all about sharks: with my nose up against a cave, I see blacktip reef ones, sharing the murky darkness with a shoal of yellow-tailed surgeonfish, who announce themselves by billowing past me. As I raise my head to take a breath, a huge pelican sweeps over my head, inches from grazing my scalp.
This is life in the gin-clear waters of Punta Carrion bay, an inlet off Santa Cruz in the Galápagos Islands. The Ecuadorian archipelago is formed of 13 major islands and seven tiny islets and I'm on a new luxury island-hopping air safari. This alternative to traditional cruising programmes involves visiting three islands on short scenic flights via light aircraft and day trips by boat.
I stay at the luxe beachfront Finch Bay on Santa Cruz Island, and Scalesia Lodge, a glass-fronted eco-hotel in the highlands of Isabela Island, where the 16 tented rooms blend so finely with tangles of rainforest, they almost disappear.
This seven-night land-based tour means we are able to reach some of the archipelago's more remote arid volcanic interiors and boggy green farmland, where thousands of giant land tortoises roam like stegosauruses. Also, if you go green at the gills on water, you'll relish exploring with the earth beneath your feet. This option offers more freedom — I cringe at the larger groups in the distance — and more time to explore. We take four speedy flights and a couple of trips on the rickety-but-quick local ferry.
Back on Finch Bay's Sea Lion yacht, we eat red snapper, fried plantain and zingy seafood ceviche, and set sail for South Plaza Island, a surreal place dusted with carpets of rich red sesuvium flowers. On the way, as I scan the frothy white-tipped waters for orcas, coffee table-sized manta rays leap clear out of the water in the distance.
'There's nothing here in the Galápagos that's going to sting you, poison you or eat you,' boasts our guide Klaus as we arrive on the black lava shores that writhe with apple-red Sally Lightfoot crabs.
He's right. The aforementioned sea lions belch, bark and stake their territory but, like most animals in the Galápagos, they're not at all bothered by us. Biologists posit that the animals have evolved without any sort of fear mechanism because of the lack of natural predators. During my trip, one friendly sea lion blew bubbles in my face and jumped over my head in a sort of slo-mo Free Willy-like arc.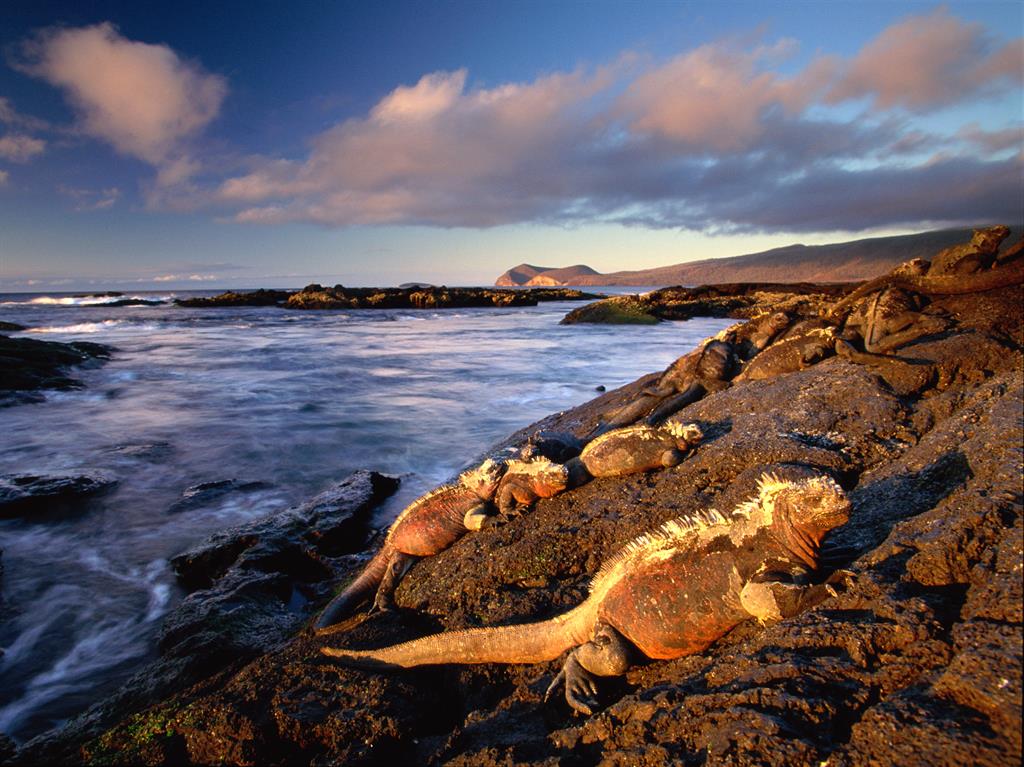 'Look!' yells Klaus, picking up a smooth stone. 'This has been in the belly of a sea lion — they eat them as it's good for their digestion. Some think they also use them to weigh their bodies down to get the good fish.'
I wander to the top of a cliff and stand, buffeted by strong winds, as frigate birds float on thermals and are so close I can see the mottled texture of their bright-red throats.
No wonder conservationists are working hard to preserve this special place. Problems still exist — overfishing, a growing human population and the introduction of species such as black rats, thought to have arrived with pirate ships in the 13th century. They gobble up eggs and spread disease, leaving conservationists no choice but to drop poisoned cookies. Animal-human interaction is also an issue — one visitor was caught with a marine iguana in his rucksack — but a clampdown on numbers and the enforcement of strict guidelines means the islands are flourishing again.
Ultimately, though, the Galápagos is a fragile treasure. It's a fact I'm reminded of as I reach the top of Volcano Sierra Negra, strewn with white lava morning glory flowers and candelabra cacti. At the summit we find a lava field some 4,500 years old. The last eruption here took place in 2005, when 30 million cubic metres of lava flowed at a monstrous 15m per second.
I look at the vast land and ponder how this tiny part of the world can still make you feel incredibly small.
Exsus Travel offers seven nights from £4,100pp based on two sharing, including accommodation, excursions, transfers, domestic and international flights, exsus.com
Animal magic: Spectacular Galápagos wildlife
Flightless cormorants on Fernandina
The westernmost island in the archipelago is home to the world's only flightless cormorant, which dives deep to the ocean floor to pick off eels and octopuses.
Marine iguanas on Las Tintoreras
Set foot on Las Tintoreras and you'll find thousands of nesting marine iguanas. You may see them sneezing — a mechanism they have developed to remove the salt water from their lungs.
Hammerhead sharks on Wolf Island
Scuba divers in the waters here often say they're unable to see the ocean's surface when they look up because of the area's thousands-strong schools of hammerheads passing by.
Waved albatross on Española
From April to December, the world's population of waved albatross breeds here. At nearly a metre high with a wingspan of 2.5m, you won't want to miss these remarkable birds.
Giant land tortoises on Rancho El Manzanillo
Farmers on this ranch on the island of Santa Cruz live symbiotically with the Galápagos's famous land
tortoises, which roam, mate and feed freely on the land.
Land helps the locals
When viewing the wildlife, visitors can forget there are also people inhabiting the islands.
'The Galápagueños have limited farming and are prevented from fishing, increasing dependency on tourism as a source of income,' says Saul Greenland at responsibletravel.com, which specialises in authentic tourism.
'Cruise ships offer financial benefits through accommodation, food and entrance fees but tend to skip the local Galápagueños.
'By taking a land-based tour — better still, staying in small, locally owned accommodations — you will be indirectly supporting the environment and also experiencing a different perspective of the Galápagos.'