AN 'EVIL' killer who stabbed a retired civil servant weeks before attacking a second woman has been jailed for at least 40 years. Kasim Lewis, 32, was sentenced at the Old Bailey yesterday after admitting the murder of Catherine Burke, 55, in north London in November 2017. He was given life last year for the murder of Iuliana Tudos, 22, on Christmas Eve 2017.
Eco protest prevented son visiting dying dad
A MAN claims he was unable to visit his dad on his death bed because of roadblocks set up by Extinction Rebellion protesters. Blockades on the M32 meant the son was stuck in traffic and couldn't reach his dying father at Bristol Royal Infirmary, he said. The BBC Radio Bristol clip — no longer available online after the man asked to remain anonymous — was played to a demonstrator yesterday, who said she was 'incredibly sorry' but added it did not affect her desire to protest. Her reply angered locals. One wrote on Facebook: 'Protesters have lost any support I may have had for their message.' Another added: 'They have no conscience.'
'Laissez-faire' approach to salt 'is risking lives'
THE failure of a drive to cut salt in food could lead to 40,000 extra cases of heart disease, stroke and stomach cancer, a report warns. A voluntary pact to reduce salt content — made by food producers with the government in 2011 — lacked 'robust target setting', says a team of researchers including Prof Simon Capewell of the University of Liverpool. If the 'laissez-faire approach' goes on it will cause almost 9,000 heart disease and cancer deaths by 2025, Prof Capewell said. The Food and Drink Federation said manufacturers 'recognise more needs to be done' but average salt content has fallen by 14 per cent in the past four years.
Challenges from benefit claimants 'get blocked'
UNIVERSAL Credit claimants are being 'blocked' from challenging decisions they disagree with, a campaign group claims. The system is throwing up so many obstacles for those seeking a review that some give up, according to the Child Poverty Action Group (CPAG) which analysed 1,600 benefit cases. CPAG chief executive Alison Garnham said: 'The failure to ensure Universal Credit operates in a way that upholds basic legal duties is cause for serious concern.' A Department for Work and Pensions spokesman said it had 'improved guidance online and advice to staff'.
Personalised reg plate drives off for £287,000
A LICENCE plate yesterday sold for £287,000 — three times as much as a new Porsche 911. Retired businessman Ian Guest, from Co Durham, bought the 'IG1' plate at a DVLA auction. He said: 'I never thought it would go so high.' The most expensive plate sold by the DVLA is '25 O', which fetched £518,000 in 2014.
Hair of the dog collar… vicar's hangover ploy
A VICAR has shifted Sunday services to 4pm so worshippers can recover from hangovers. Rev Mark Montgomery hopes he will fill more pews at St Gabriel's in Kings Hill, Kent. Parishioner Graham Lawson, 45, welcomed the move at the CofE church but added: 'The problem is services will clash with the football now.'
Fond parents stick 2,000 artworks on the fridge
THE average child produces more than 2,000 arts and crafts pieces before they are 12, a study finds. Seventy-nine per cent of mums and dads will display all of their child's masterpieces at some point, with the fridge the most popular spot, said BIC UK and Ireland, which polled 2,000 parents for its Young Artist Award.
WORLD BRIEFS
Girls 'killed pal for being too pretty'
TWO teenage girls have been accused of murdering their friend because 'she was too attractive'. They were arrested after the disfigured body of Viktoria Averina, 17, known as Vika, was found at an abandoned building in the city of Arkhangelsk, Russia. The trainee chef had been hit over the head with a bottle and broken glass was used to 'cut her face'. She was then strangled, said police. Officers initially believed a man was behind the killing but the 16-year-old suspects — named Lina and Irina — have confessed to the crime, detectives say. The pair — who were former classmates of Vika's — said during interviews that she was 'arrogant because of her bright and attractive face', police said. Said to be from 'socially normal families', the suspects face up to 15 years in jail if convicted of murder.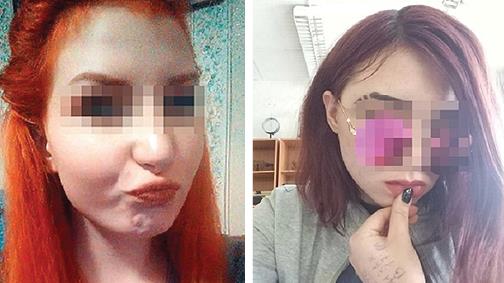 Death penalty for Daesh trio who killed hikers
THREE men have been sentenced to death in Morocco for murdering two Scandinavian hikers. Maren Ueland, 28, and Louisa Vesterager Jespersen, 24, were beheaded in their tent in the Atlas Mountains in December. Jounes Ouzayed, Rashid Afatti and Abdessamad Al Joud had claimed allegiance to Daesh. Nineteen accomplices were jailed for between five and 30 years.
Air Force warns against call to 'storm Area 51'
THE US Air Force has warned people against taking part in a Facebook joke to 'storm Area 51'. Nellis Air Force Base said any attempt to illegally access the top-secret site in the Nevada desert, centre of UFO conspiracy theories, on September 20, 'is highly discouraged'. The online post said: 'Let's see them aliens
WORLD BITES
■ TWO brothers, aged one and three, have drowned in a swimming pool at their home in Uniontown, Pennsylvania. Police are investigating how they ended up in the pool.
■ THE Louvre is the first major institution to remove the Sackler name after lawsuits blaming the family for the opioid crisis in the US. Placards with the Purdue Pharma owner's name are now taped over at the Paris museum.
■ A GIRL suffered a seizure as her sister curled her hair. Gracie Brown, ten, of Clinton, Tennessee, fainted from the rare 'hair-grooming syncope', when nerve stimulation causes blood pressure to drop.
■ POPE FRANCIS has named Winchester-born Matteo Bruni as the Vatican's new spokesman. Mr Bruni, 42, who joined the press office in 2009, was educated in Italy. He is fluent in English, Italian, Spanish and French.