Ride like a winner
IN THE early days of the Tour de France, man and bike could only rely on sweat and gears to carry them over the line. Today, riders are kitted out in the latest aerodynamic clothes and in the 21st century these lean, mean cycling machines also get a helping hand from technology.
For Team INEOS, home to last year's British winner, Geraint Thomas, tech steps in before bike tread even hits asphalt thanks to his Wahoo KICKR smart trainer (£999.99, uk.wahoofitness.com), designed to simulate the drag of riding outdoors.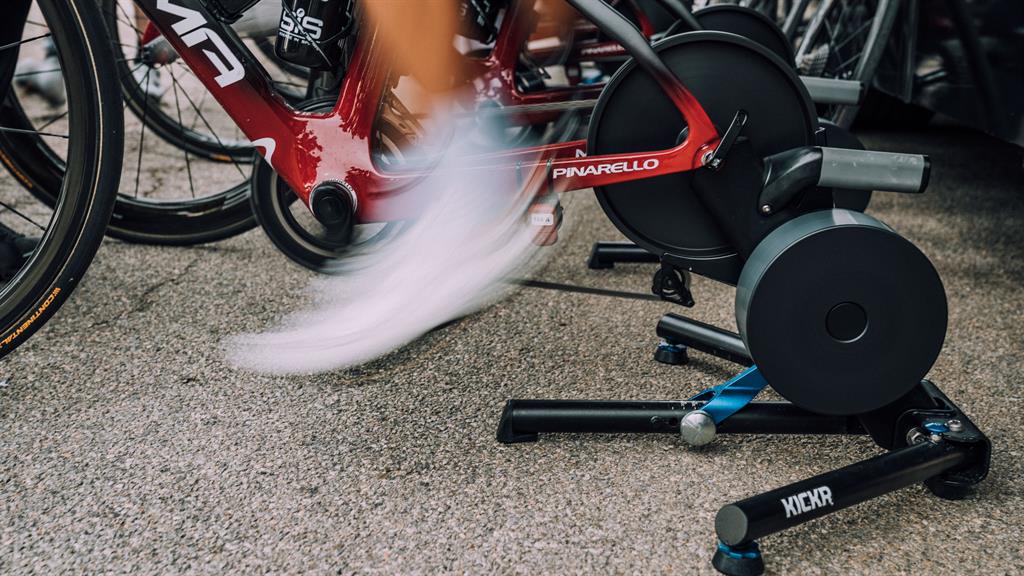 When coupled with gradient simulator Climb (£499.99, uk.wahoofitness.com), and smart fan Headwind (£199.99, uk.wahoofitness.com), which replicates race airflow patterns, the power-based workouts can optimise a rider's indoor training to match the terrain encountered during the Tour, such as the cobbled climb of the Muur van Geraardsbergen, a surprise addition to this year's stage one.
Once the race is under way, Thomas's toolbox will include the Garmin Edge 830 GPS bike computer (£349.99, buy.garmin.com), providing Team INEOS with performance data such as their lead rider's heat and altitude acclimatisation. The device, clipped to the handlebars, will also issue notifications, letting Thomas know it's time to hydrate or take a chew on an energy bar.
After the race, burning loins get a boost of recovery thanks to the NormaTec Pulse PRO 2.0 System (£2,632, normatec-uk.com). These strange-looking pantaloons offer a gliding massage for your post-race pins, banishing lactic acid (the waste product of metabolism) as well as muscle tension, DOMS (Delayed Onset Muscle Soreness) and swelling. You might not want to wear them out and about, though.
For the organisers and fans
If there's one sporting event that needs wartime-style planning, it's the Tour. After all, this is a race where even a one per cent boost in performance can win you the title. Today's Plan (todaysplan.com.au), an online training and analytics platform, collates data from an entire team of sport directors, doctors, nutritionists, coaches and riders. Combine this with other external information, such as weather reports, and you give an entire team that killer advantage when making potentially race-winning, or losing, decisions.
Planning isn't only crucial to cyclists' success. Tour technology partner NTT (hello.global.ntt) routinely introduces new gizmos and gadgets to improve the experience for supporters, riders and team officials. For example, the Japanese company provides an enhanced viewing experience thanks to sensors installed on each bike, allowing the team to crunch more than 150 million data points per stage, powering real-time visualisations that can be monitored by fans worldwide.
This year will also mark the first time NTT has deployed a machine-learning model, used to analyse the movement of the peloton, predicting where it could split, power on or collapse.
'This helps NTT's analysts provide thrilling real-time race predictions,' says Tim Wade, a senior director at NTT.
Event organisers can tap into NTT's innovations too. The tracking of rider positions is particularly important for making informed real-time decisions about race management, pre-empting and preventing issues caused by external factors to ensure rider safety.
Environmental mapping, for instance, allows organisers to understand the challenges cyclists will face, such as a sudden change in wind direction. Anything that stops those hideous pile-ups can only be a good thing, right?
Lastly, if you're neither heading to France to wave a flag nor biking the roads of Blighty, why not stay on the couch and play the official Fantasy Tour de France League (letour.fr/en)? Our money's on another British win. Go Geraint!
Upgrade your Chopper
YOU certainly won't find a Raleigh Chopper on the continent this Tour, only the best futuristic bikes — like the Canyon Aeroad CF SLX Disc 9.0 SL (£6,799, canyon.com). One of the fastest aero bikes going, with internal hose and wire routing, it's the choice for teams like Katusha-Alpecin and Movistar.
Similarly sleek is the Trek Madone SLR9 eTap Disc (£10,300, trekbikes.com), as favoured by the likes of Richie 'Tasmanian Devil' Porte, complete with Bontrager Aeolus 6 XXX Carbon wheels to help him slice through slipstreams.
The Pinarello Dogma F12 (£12,000, sigmasports.com), a two-year project of research and development, features an integrated handlebar that provides five per cent less drag over the previous F10 model and a refined fork and frame with a 7.3 per cent reduction, ensuring Team INEOS rides like the wind!