IT'S nearly 3am in Tbilisi club Khidi and I'm lost. I'm wandering around a warren of raw stairways and alleys in the onyx-black industrial space, currently packed with a local crowd, but I'm yet to locate the toilets and my limited Georgian lingo isn't cutting it. My new bouncer pal finally understands my charades-like mime and I'm sent in the right direction through the pulsing smoke.
The presence of hallowed techno clubs like Khidi (entry from £8, khidi.ge) is just one of the reasons why the Georgian capital Tbilisi, a city at the crossroads of Eastern Europe and Western Asia, is fast emerging as the alternative city destination to visit. It's a fascinating corner, tumbled with wooden houses bearing intricately carved balconies in a Wes Anderson-esque palette of faded peaches and duck-egg blues. I'm seduced by its art nouveau shop fronts, piles of pomegranates and peeling plaster walls, which all contrast perfectly with its edgy counter-culture, driven by a blossoming arts, nightlife and style scene.
Of course, it's not as easy to reach as most traditional city breaks. Georgian Airways flies direct from London in around five hours — but my indirect flights took more like eight. A quick jaunt this ain't.
Luckily, accommodation options have become easier. I'm staying at The Moxy, a laid-back new outpost of the youth-focused hotel group located just off Tbilisi's Dry Bridge. The 128-room hotel's vast industrial lobby is perked up by huge windows and countless cheerful touches, from neon-pink signs to bright yellow armchairs.
I happily stumble upon one of its twice-monthly parties where guests mingle with the locals. It's here where I have my first taste of chacha (£2.80), an eye-watering grape brandy that can contain anything between 45 and 60 per cent alcohol. I'm nearly poleaxed by one shot but Georgians seem to knock it back like water without being any worse for wear. I decide to stick to beer (from £1.40), politely declining the offer to drink it from a giant ram horn.
Today's Tbilisi may feel upbeat but Georgia has endured turbulent conflict. After declaring independence from the former Soviet Union in 1991, it has seen a devastating economic crisis resulting in extremely limited access to electricity and water. While the country has made huge leaps forward, times are still uncertain and it's this transition state that seems to be behind the city's dynamic and enterprising creativity.
I meet Tamuna Karumidze, who was inspired by Georgia's underground skate scene to launch label Tamra (instagram.com/tamra_official), which recently hosted a fashion show at the Moxy. While the brand makes most of its sales through Instagram, Tamra boards can also be found 15 minutes' walk from the Moxy at Margo Skate shop in Fabrika (boards from £36, facebook.com/Margoskateshop).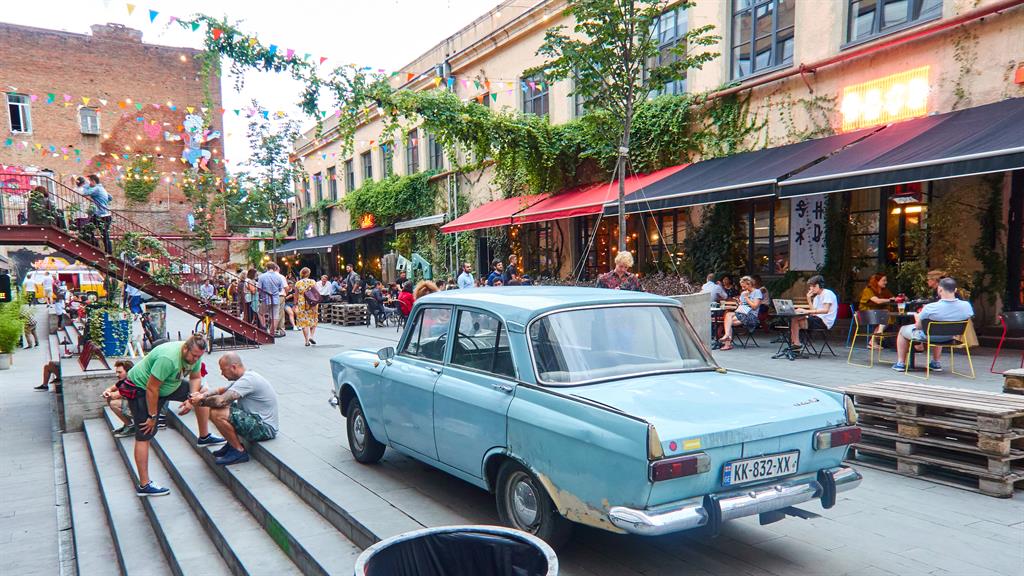 Housed in a former Soviet sewing factory, Fabrika (fabrikatbilisi.com) is the undisputed focal point for Tbilisi's youthful creative boom. I find shops, studios, co-working spaces, bars and cafés, some serving traditional corn and cheese bread called mchadi (£1.70) and others serving bowls of ramen (£5), below strings of colourful bunting, while huge street art murals cover the courtyard walls. I check out Vodkast records (vinyl from £2.80, facebook.com/vodkastrecords), founded by pioneering local DJ Gio Dekanidze and an epicentre for the local alternative music scene.
If Fabrika is the place to start the night, many Georgians will end it, as I do, in one of Tbilisi's techno clubs. The city — hometown to pop star Katie Melua — is passionate about dance music. Similar to the rave scene in post-wall Berlin, it isn't just about having fun, either: for many it's a symbol of freedom, tolerance and social change.
Earlier this year, club Bassiani (tickets from £16,bassiani.com), tipped as a challenger to Berlin's legendary Berghain, was raided by police, immediately inciting 10,000 partygoers to take to the streets in a protest dubbed Georgia's 'rave revolution' — one of the many creative uprisings bubbling in this defiant capital.
Double rooms at The Moxy Tbilisi start at £35, moxy-hotels.marriott.com
Art Villa Garikula
YOU'RE guaranteed to have a very special experience if you make it to this artist residency and exhibition space in Akhalkalaki, a small village about an hour north-west of Tbilisi. Founded as a squat by artist and owner Karaman Kutateladze in 2000, the dilapidated house is now home to a small community of artists and is filled with contemporary art.
Modern sculptures created for the annual Fest I Nova art festival, which runs each year from May to October, are also dotted around the beautiful grounds, framed against rolling fruit trees and craggy mountains. Visitors are loosely welcome at any time, and Kutateladze or one of his family of creatives is likely to offer you hot fresh bread and local wine. The villa, shaped like something out of a folk tale, also plays host to occasional theatre performances and art workshops.
Rooms from £45, call ahead to check availability, garikula.com
Georgia on a plate… five can't-miss dishes
Khachapuri
Georgian's national dish: essentially, cheese-filled bread. Sulguni cheese is used most often but you can also find the centre stuffed with egg.
Khinkali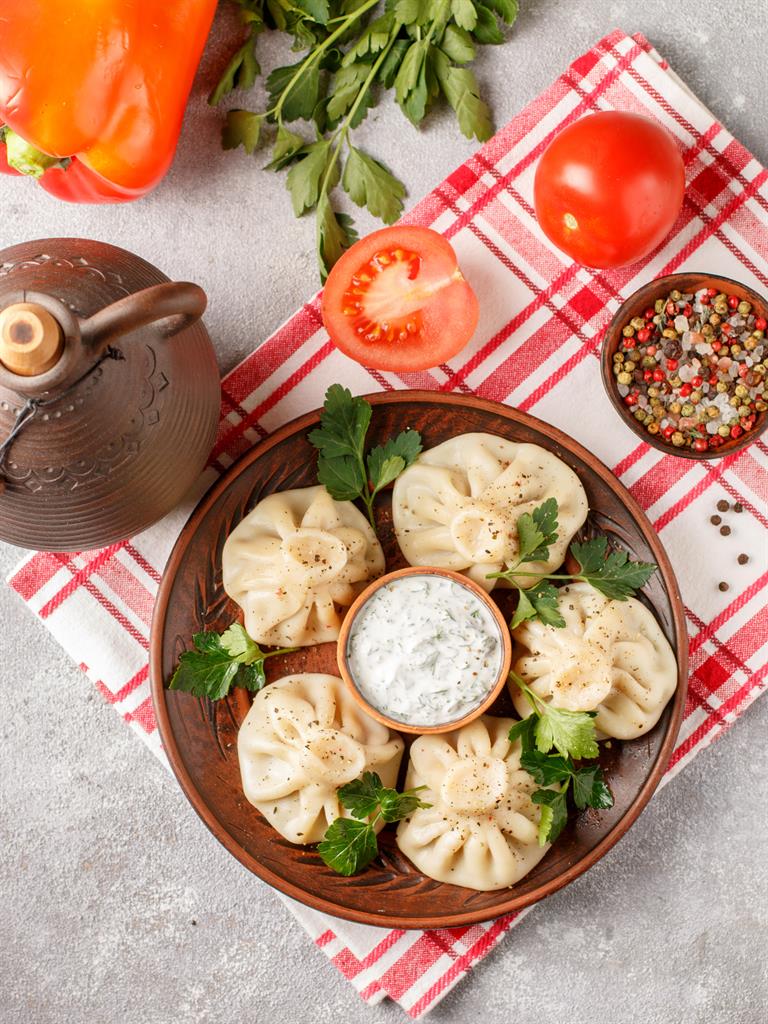 Georgia's version of dumplings. Traditionally they contain minced meat, chilli, salt, pepper and cumin but you can get veggie versions too.
Gozinaki
This brittle-like dessert is usually served around Christmas and New Year, and is made with caramelised walnuts fried in honey.
Tklapi
Looks like leather, tastes like fruit. Basically, different types of fruit are puréed, spread thin, and sun-dried until hard and chewy.
Lobio
A slow-cooked kidney bean stew, often served in a clay pot, cooked with coriander, walnuts, garlic and onion. Good hot or cold.