WHILE most people's January involves repenting Christmas binge-eating sins and swapping Ferrero Rochers for alcohol-free detoxes, for around 170,000 tech junkies the new year was all about Las Vegas this week and CES, the planet's pivotal gadget showcase. The show's combination of consumer tech, glitz and hype make it the most significant date on the tech calendar, making it a springboard for exciting launches and concepts ranging from the revolutionary to the ridiculous in every form imaginable. Welcome to 2020…
Here come the bots
SARCOS Guardian XO exoskeleton
An exoskeleton that equips its user with super-human strength, stamina and endurance is the kind of thing sci-fi dreams are made of. Partnering with Delta Airlines, this wearable robotic overcoat has its sights set squarely on freight loaders and maintenance workers lifting much heavier loads than they normally would to minimise risk of injury.
Samsung Ballie
If Star Wars's BB-8 spent an ill-advised night with a tennis ball this is probably what their offspring would look like. Instead, this voice-activated rolling AI assistant pootles around your home to automatically command smart home devices like a TV or robot vac, captures moments using its built-in camera and even keeps your pet entertained.
Charmin Rollbot
Everyone can relate to being stranded on the loo without paper. One solution could be on-demand toilet paper delivery from an app-controlled, self-balancing bear-faced bot concept, which could save you a few uncomfortable steps to retrieve a spare roll after the painful realisation you're out of your soft, velvety commodity.
Pibo
Lonely? This robot from Korean developer Circulus can play music, tell you the weather, sort your diary and more. And he's adorable.
Smart eating
Heatbox
Communal microwaves are a pain in the backside, especially when there's a queue. One company may have just created the holy grail of Tupperware — a rechargeable, self-heating lunchbox that uses steam to heat up your homemade veggie bake while maintaining those all-important nutrients.
Julia, the kitchen robot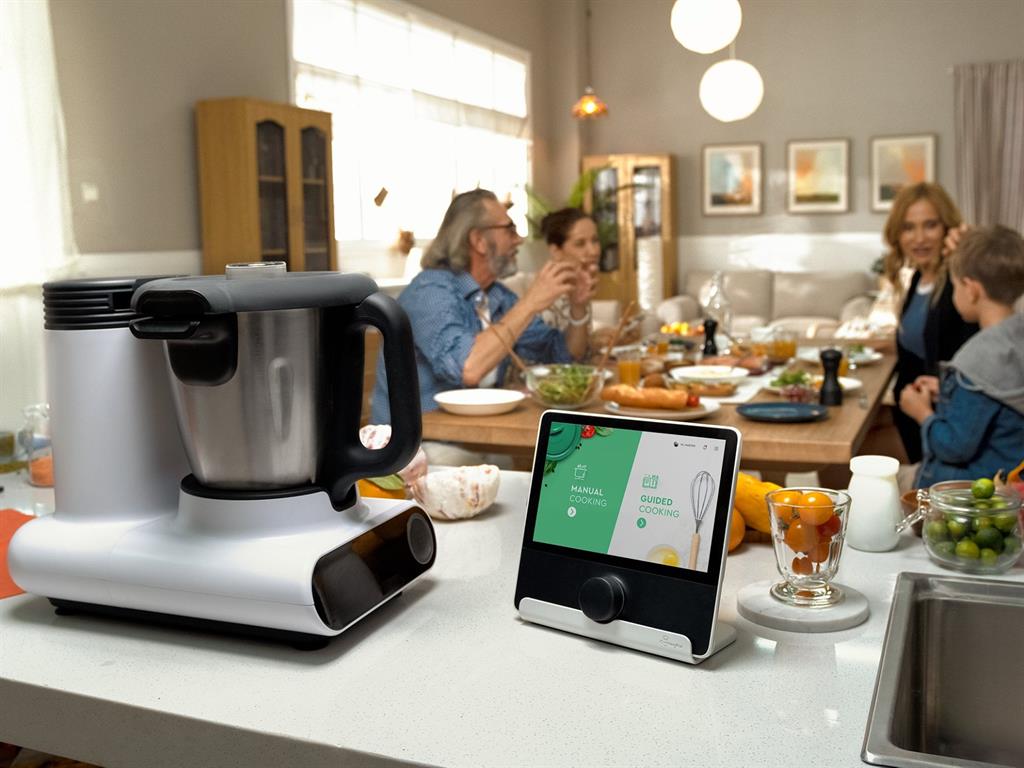 For the less culinary inclined, this thing can weigh, chop, steam, knead, whisk and cook. Controlled by an 8.9in smart kitchen hub or via voice recognition, all you need to do is load it with the necessary ingredients with step-by-step prep in order to get it to whip up dinner.
Bello
If you're concerned about your health or the size of your muffin top, Olive Healthcare's app-connected body fat scanner will analyse your waist with the help of infra-red sensors. The Bello reveals what percentage of your tissues, blood and guts is fat.
DnaNudge
This clever wristband keeps tabs on your eating habits by telling you what you should and shouldn't be shovelling down your throat. All it needs is a swab of saliva from your cheek to provide the necessary advice to make healthy choices based on your own DNA.
Display this
Samsung Sero TV
This odd TV, which rotates from horizontal to vertical, with enough clearance to not hit the floor, has got TikTok millennials written all over it. Able to present vertical mobile content, minus the black bars, it's triggered by tapping a Samsung Galaxy device against the Sero's frame, while iPhone users have to rely on AirPlay 2.
Samsung Q950TS 8K QLED
You couldn't walk far at CES without spotting an 8K TV. We feasted our eyes on this almost bezel-free gogglebox that's 99 per cent picture and so sharp it'll take your eye out. So far, Samsung has announced there will be three screen sizes for the Samsung Q950TS — 65in, 75in and 85in versions.
LG rollable OLED displays
LG unveiled a new use for its rollable screens — a concept involving an aircraft cabin internally covered in the stuff to create the sense you're not encased in a small space, a 55in transparent OLED and a 65in 4K OLED. Not available in economy class.
Home smarts
Kohler Numi 2.0
With built-in speakers, ambient mood lighting and Alexa voice controls to get the news or order more loo roll, this intelligent toilet is a far cry from your average porcelain throne. Chuck in personalised cleansing and drier functions and a heated seat and you'd be forgiven for spending more time on it than is strictly necessary.
Kohler Moxie
Alexa now features in shower heads, so you can request tunes, the news and the temperature while nude. The speaker emits a white noise-cancelling frequency, so it can be heard over the sound of running water.
Townew trash can
This self-sealing bin ties up a rubbish bag when full at the push of a button, opens the top for removal and pulls in a new bag when it's time to start the entire process again.
Mateo bath mat
This smart bath mat tracks your weight, alongside body composition and — using medical-grade 7,000-dot pressure mapping tech — your posture. A companion app also offers useful health tips and alerts.
Juno Chiller
This thermoelectric table-top chiller promises to rapidly chill a bottle of wine, can of drink or any liquid in a Juno custom container, in just a couple of minutes, while ensuring date night isn't marred by tepid prosecco.
The best of the rest
OnePlus Concept One phone
It's refreshing to see a rectangular slab do something different, even if it never makes it to market. That's the thinking behind this one-trick concept that employs ultra-thin electrochromic glass that can change opacity to reveal the camera on cue and make it invisible again.
Manta5 Hydrofoil Bike
Part e-bike, part plane, part boat, the idea behind this kooky pedal-powered contraption is to mimic cycling but on the wet stuff, by swapping wheels for a set of hydrofoils that essentially function like wings in the water. With pedal assists on board, riding the waves won't be as tiring as you think.
Royole Mirage
Royole's flexing its rollable muscle once again with an Alexa-equipped cylindrical smart speaker that boasts a flexible wraparound 7.8in AMOLED touch display that takes folding screens into new territory. Underneath its curvaceous chassis there's three full-range drivers and a passive bass radiator.
Teslasuit VR Glove
Last year Teslasuit outed a full-body haptic feedback suit for VR to simulate touch and temperature sensations across the body. Now there are VR gloves to match, used with the suit or separately, that integrate haptics, motion capture and force feedback to feel your way around virtual environments.
Practical magic: The best stuff you can actually buy
Y-Brush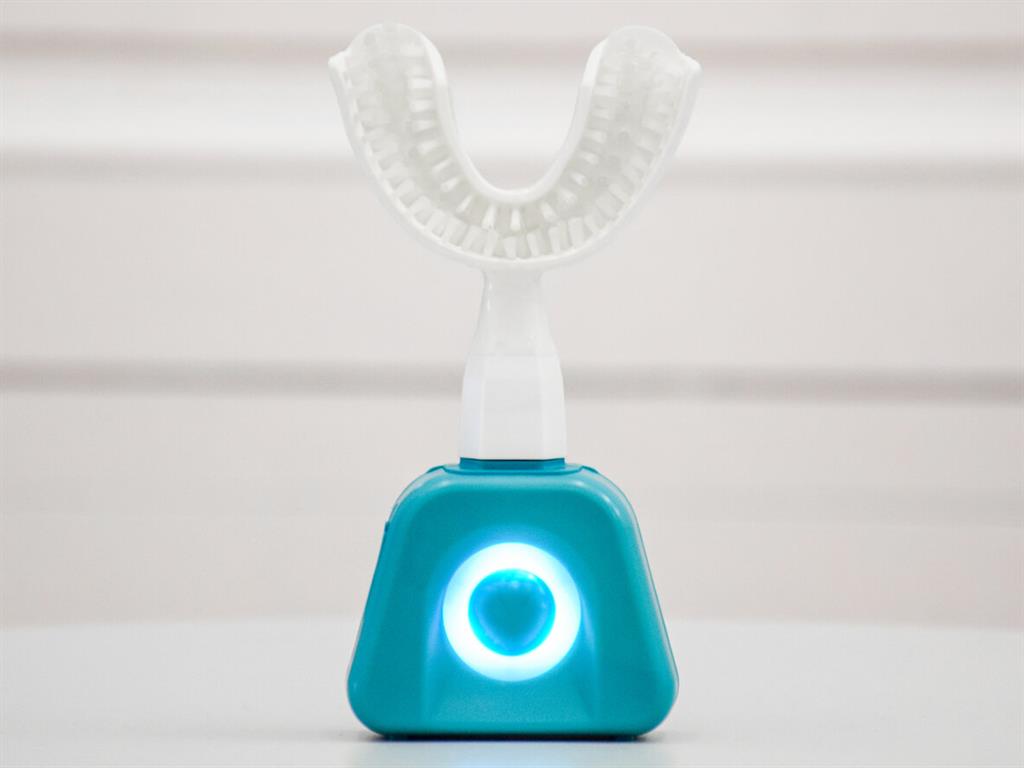 Hailed as the toothbrush of the future, this clever electric gumshield could make the recommended two-minute brushing time a thing of the past, with its sonic vibrating tech that brings teeth-cleaning time down to just ten seconds. From £92.81, y-brush.com
Samsung Galaxy Chromebook
Not only is this Google OS-toting convertible Chromebook dripping with style, thanks to its sharp 13.3in 4K AMOLED display, Google's director of product management has called it 'the best Chromebook yet'. £766 (March), samsung.com
Diesel Fadelite
You're spoilt for choice when it comes to strapping on a Wear OS smartwatch. This attention-grabbing timepiece rocks a translucent case with transparent straps to match, alongside the usual features like GPS and heart-rate tracking. £249 (March), diesel.com
Audio-Technica ATH-ANC300TW
Audio Technica delivers its most advanced set of wireless earbuds, with noise-cancelling tech that's been shrunken down to earbud size and can be tailored to your environment with three presets. £209 (May), eu.audio-technica.com
Lenovo ThinkPad X1
Things that fold are going to be huge, which explains why Lenovo's just revealed the world's first foldable PC, with a 13.3in OLED display that splits into two screens and connects to a magnetic Bluetooth keyboard. From £1,915 (summer), lenovo.com