IN A quiet corner of east London, where the City skyline looms large through the windows, there's a place where machines hum like washer-dryers, spotless surfaces are cleaned on a loop and scientists in pristine white lab coats go about their day with no fear of catching coronavirus. This is life in an antibody testing lab, one that is hoping to send millions back to work with one painless prick of a needle.
It sounds like the perfect remedy for those who have had Covid paranoia. Sneezing fit? Brief lack of smell? We've all been there when it comes to the C-word. But antibody testing, which is used to detect Covid-19 antibodies to see if you have had the virus, is a Wild West world.
Superdrug's £69 DIY home kits, which involved a finger-prick test without medical supervision, were found to be so inaccurate they were removed from shelves. Likewise, the testing kits the government ordered from China at a cost of millions to the taxpayer failed to pass sensitivity and specificity tests. And if that wasn't enough, these blood tests are not to be confused with swab tests, which can only tell if you currently have the virus. They too are prone to inaccuracies if you're an average Joe cack-handedly administering the tests at home.
The lab I'm in, run by Hvivo (part of the NHS Research Authority, linked to Queen Mary University and tacked on to the back of the Royal London, Whitechapel) uses the blood-draw method — where a nurse or GP takes your blood — and it's as accurate as the test given to NHS workers: 99.8 per cent.
For around £100, Hvivo hopes to offer the test via a nationwide network of clinics based either within businesses or outside them. Once your blood is drawn into a serum separation tube and whisked off, the lab's two hi-tech machines (one of which comes complete with 132 probes) will do the heavy lifting/whirring. Once they've got your blood sample, they can have the results back to you within 48 hours.
It all sounds promising. And the nurse taking my blood is such a pro, the invasive part is over in a second. But what, I wonder, is the point? After all, there is no strong evidence yet to suggest that even if you have antibodies, you're immune to the virus. Neither does it mean you can ignore social distancing measures. And a positive antibody result doesn't mean you can't pass the virus on to others.
Basically, whatever the outcome, I can hardly tear out of the lab like Andy Dufresne leaving the Shawshank sewer.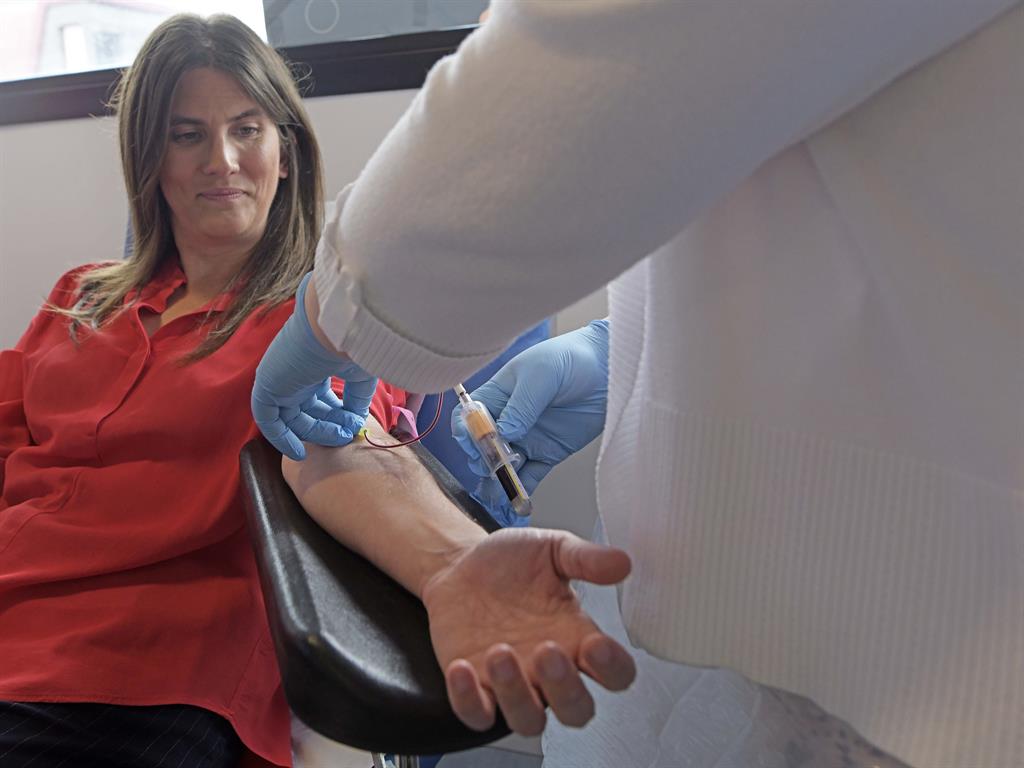 'I can speak personally,' says Hvivo's lead scientist and lab operations director Adam French. 'I had symptoms and the knowing/not knowing is one thing that creates anxiety. Knowing that you have antibodies offers reassurance to staff. If they're antibody positive and they haven't been badly ill and they know they've had it, it makes them feel better. Also, it helps the population if we know the true numbers of people infected — ie, those who haven't gone to hospital. Knowing that information is important for public confidence in returning to work.'
It seems like a high-stakes game to invest in something that on a selfish, personal level essentially just provides clients with a psychological boost. But Hvivo hasn't put all its eggs into one petri dish — it's testing for a vaccine as well. This month, a batch of volunteers will quarantine for up to 16 days in the lab's isolated private rooms, their every biochemical process monitored. That certainly puts a new spin on lockdown.
'It's too early to pass judgment,' says French on the subject of whether any one country got its lockdown response right. 'The global response to this pandemic is unprecedented, therefore any WHO or government strategy was untested in a real-world scenario. Only time will confirm which lockdown strategies was the best approach.
'I know there's been criticism with the UK's response but the government has followed the scientific advice.' he adds. 'I think the thing people struggle with is as more data comes out, we get a clearer picture and then the advice changes. You can't instantly give an exact answer. That's why currently the guidelines are what they are.'
For those worried about a second wave, French offers a glimmer of good news.
'A second or third wave is not inevitable, though it's perhaps more likely in countries where fewer people have been infected and are thus without antibodies,' he says. 'Following a local lockdown model [as in Leicester] in areas where cases are high is likely the best approach to prevent one here as long as they are implemented quickly. Based on the data and new measures, I'm not personally worried about a second wave in the UK.'
With that bit of cautious optimism, my results are in… and they're negative. I've not had the virus so there are no antibodies in me. I'm disappointed but it's renewed my faith in whether lockdown has been worth it. And in these strange times, I'll take all the positives I can get.
JUST THE SWAB — OTHER TYPES OF TESTS
NHS Antibody Swab Test
This checks if you have the symptoms now (rather than in the past) by taking a swab of the inside of your nose and the back of your throat using a long cotton bud. Home test kits are available but if you're worried about mishandling or contamination you can book an appointment at a drive-through or walk-through test site with a clinician. The test is free and available to everyone but essential workers, including NHS or social care staff, are prioritised. To apply for a test visit nhs.uk/ask-for-a-coronavirus-test
The Roche test
Like Hvivo's test, this one from Swiss pharmacology company Roche is a laboratory assay test (an assay is simply an analysis that looks for the presence of a substance) where a sample of blood drawn by a nurse or GP is tested for antibodies to see if you've had the virus in the past. It has already been used by Public Health England to test NHS and frontline care workers and shares Hvivo's top-drawer accuracy rate of 99.8 per cent.
At-home blood finger-prick tests
These are the ones to avoid, currently. Oxford University tested several versions but all failed to pass muster (the best were 70 per cent accurate and most no more than 50 per cent). Following this study, the UK's Medicines and Healthcare Products Regulatory Agency asked high-street pharmacies and private healthcare providers to temporarily stop selling certain antibody tests at the end of May. The agency has now recruited 2,500 volunteers from across England to look at the 'potential of home-based antibody tests' using finger-prick blood. Watch this space…