Co-curator Jenny Lister shares her highlights ahead of the V&A show celebrating fashion icon Mary Quant
IT'S so important to acknowledge and celebrate Dame Mary Quant's incomparable role in influencing and democratising the fashion industry as we know it today. Her clothes and products represent a key moment in the story of fashion. They show new attitudes and social change and how fashion can reflect this but also, as a form of media in itself, drive things forward.
As the face of her brand, with her very individual style, she was instantly relatable and authentic at a time of booming visual media in a way that we would recognise today in the world of Instagram. From hotpants to minis, the new V&A exhibition showcases 200 garments and accessories and includes unseen pieces from her archive, providing a fascinating insight into Mary's creations, which aptly demonstrate how she launched a fashion revolution that defined an era. Here, Jenny talks us through her choices.
Twiggy
'Twiggy personified the androgynous, childlike look of Mary's designs of 1966-7. Described as the 'new kid on the block' by other models, her waifish, big eyed, long-legged look was perfectly suited to Quant's thigh-high skirts and reimagined waistcoats and shorts borrowed from menswear. Her working-class roots also helped to demonstrate that Mary's designs were for everyone.'
Dress designs
'Mary drew her jersey dress designs on figures in animated poses in keeping with the sporty, functional nature of the garment. This is typical of her favourite designs — she wanted 'free flowing, feminine lines that complement a woman's shape, with no attempt at distortion. I want relaxed clothes, suited to the actions of normal life.' Her annotations on the paper design pass on instructions to the seamstresses in her workroom. This circa 1967 example includes a stand collar, rolled sleeves, and 'smaller Liberty bodice buttons dyed yellow', and a belt with a brass buckle.'
Beauty bus
'The beauty bus was one of Mary's most brilliant marketing ventures. A London Routemaster, stripped and fitted with make-up mirrors, tables and stools, it would be driven to major stockists of the Quant brand, as sales staff would demonstrate the look to customers, who could make a purchase. It toured Europe, Canada, North America and Venezuela from 1970-1975.'
Silk party dress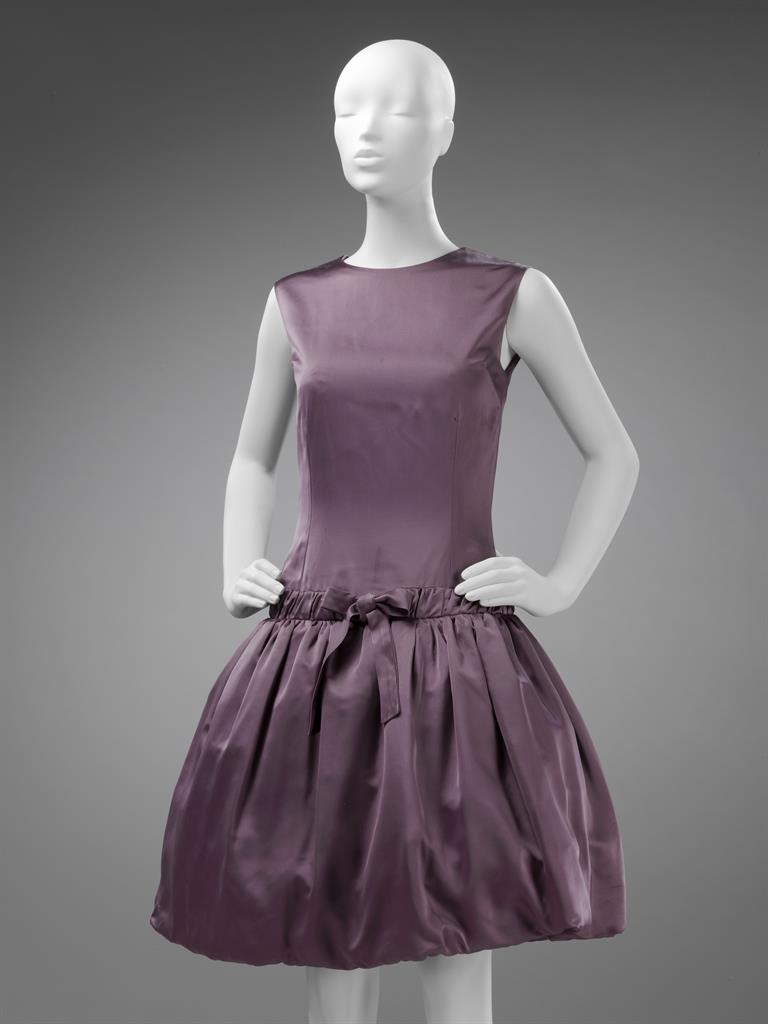 'Worn and given by Nicky Hessenberg. The 1960 dress sums up the early days of Quant's success, when her clothes were still labelled with the name of her shop, Bazaar, rather than with her own brand name. It's really nicely made, probably in the small atelier run by Mary then. Nicky told us how going to Bazaar with her mother and buying the dress aged 16 so she could go to 'grown up' parties was special, like a 'coming of age.''
Minidress with Peter Pan collar
'Worn, 1966 or 1967, and given by Deborah Cherry. This sums up the Quant mindset brilliantly. After a decade in business, her brand was sold around the world and she was diversifying into accessories and cosmetics, carrying her recognisable daisy logo. The international focus of fashion was now on London street style. In patriotic Britpop mod colours, this minidress gave its wearer comfort, freedom and a style of their own — the flip side to the formality of couture.'
■ Mary Quant, V&A, London, Tomorrow-February 16, 2020, vam.ac.uk