BORIS JOHNSON'S fiancee Carrie Symonds has given birth to a baby boy, the couple have announced.
A spokeswoman for the prime minister and his partner said both mother and baby are 'doing very well' after the birth in a London hospital this morning.
It is understood Mr Johnson was present throughout the birth — which came just days after he resumed work following a brush with coronavirus.
The spokeswoman said: 'The prime minister and Ms Symonds are thrilled to announce the birth of a healthy baby boy at a London hospital earlier this morning. Both mother and baby are doing very well.
'The PM and Ms Symonds would like to thank the fantastic NHS maternity team.'
Mr Johnson, 55, and Ms Symonds, 32, announced in February that they were expecting a baby in 'early summer', and that they had become engaged at the end of last year.
The news of the birth comes just weeks after the PM was discharged from intensive care, where he had been battling coronavirus.
Ms Symonds also suffered symptoms of the disease.
She returned to Downing Street after joining Mr Johnson as he convalesced at Chequers, but it is not yet known in which hospital she gave birth.
A Downing Street spokesman confirmed Mr Johnson is expected to take paternity leave in the future.
The spokesman told a Westminster briefing: 'I do expect the prime minister to take a short period of paternity leave later in the year, rather than now.'
The spokesman confirmed the family will live in Downing Street, but did not confirm whether the baby was premature and could not announce weight, timing, nature or location of the birth.
The name of the tot has also yet to be annoucned, but Wilfred is the bookies' favourite, with Alexander and Winston also thought to be likely options considered by the couple.
William Hill has Wilfred as the 9/2 favourite, and Winston at 8/1, with the bookmaker's spokesman saying he believes Mr Johnson and Ms Symonds will go with 'a seriously posh name'.
Dominic Raab, standing in for Boris Johnson at this afternoon's prime minister's questions, said: 'The PM and his fiancee Carrie Symonds have announced the birth of a health baby boy this morning.
'Both mother and baby are doing well and I'm sure the whole House will want to join with me in sending congratulations and our very best wishes to them.'
Labour leader Sir Keir Starmer added his congratulations, saying: 'Whatever differences we have in this House, as human beings I think we all recognise the anxiety that the prime minister and Carrie must have gone through in these past few weeks — unimaginable anxiety.
'I really hope that this brings them incredible relief and joy.'
Acting Liberal Democrat leader Sir Ed Davey wrote on Twitter: 'Many congratulations to the PM and Carrie Symonds on the birth of their son!'
Commons leader Jacob Rees-Mogg congratulated the prime minister for joining 'an exclusive club of members who are fathers of six'.
During the business statement, he said: 'As a father-of-six, I know that there is no greater joy than a new life suddenly appearing in the room.
'It is a huge joy for the whole country.
'And I think the prime minister joins an exclusive club of members who are fathers of six, along with my right honourable friend the member for Gainsborough (Sir Edward Leigh).
'I don't know if there are any others I'm missing out currently, but it is a great club to belong to.'
Chancellor Rishi Sunak said it was 'great to hear Downing Street is getting a new resident'.
And the PM's father, Stanley Johnson, said he was 'absolutely delighted' and 'thrilled' by the birth of his grandson.
Foreign leaders, including Australia's PM Scott Morrison and Japanese premier Shinzo Abe, also sent their good wishes.
The Queen has sent a private message of good wishes to the couple, Buckingham Palace said, and the usual weekly audience between monarch and the PM, will also go ahead by telephone today.
The Archbishop of Canterbury, Justin Welby, tweeted: 'Wishing them every blessing and happiness.'
Mr Johnson and Ms Symonds made history as the first unmarried couple to officially live together in Downing Street when they moved in last year.
The new arrival is the third baby born to a serving prime minister in recent history.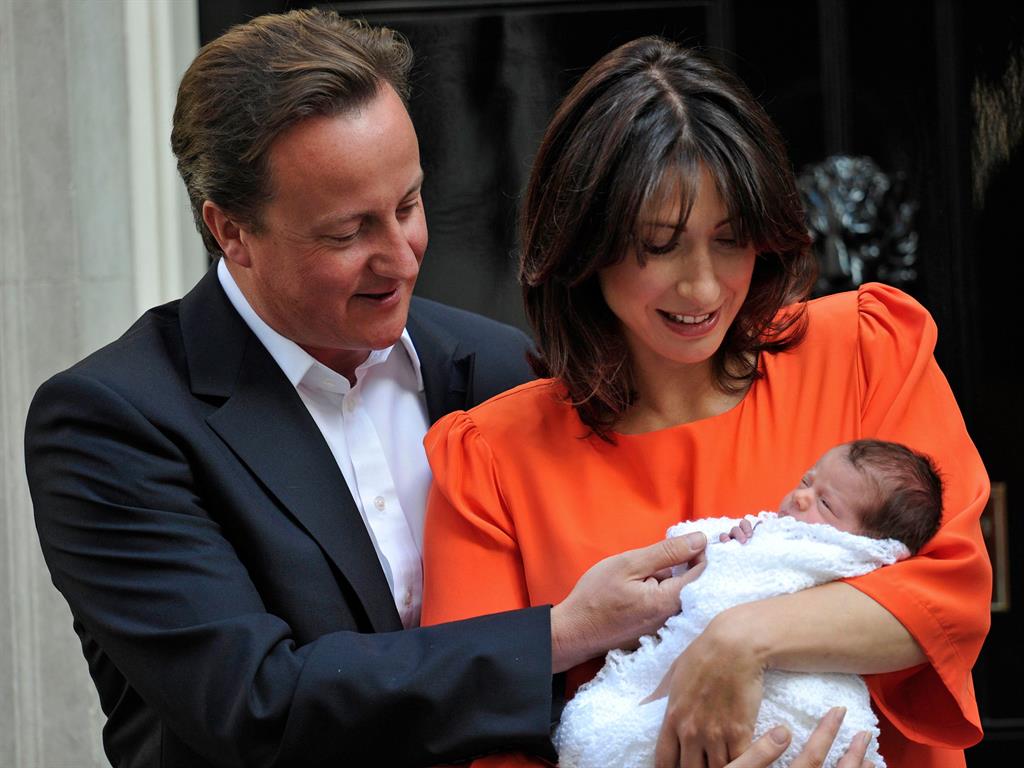 Tony Blair's wife Cherie gave birth to son Leo in May 2000, three years after her husband's first election victory, and David Cameron and wife Samantha welcomed daughter Florence in 2010.
Before Leo and Florence, the last babies born to prime ministers arrived more than 150 years ago.
The baby is Ms Symonds' first child, while Mr Johnson is known to have fathered five others, four with former wife of 25 years Marina Wheeler, from whom he separated in 2018, and another revealed after the Appeal Court ruled in 2013 that the public had a right to know he had fathered a daughter during an adulterous relationship while running he was London mayor in 2009.