FAR-RIGHT Donald Trump supporters stormed the US Capitol last night in a last-ditch bid to thwart Joe Biden's presidential election victory.
Congress was suspended and a curfew imposed in Washington DC as demonstrators — some of them armed — pushed past police and smashed doors and windows to get into the building.
Reports emerged that a woman was 'critical' after being shot in the chest and late last night had died from her injuries.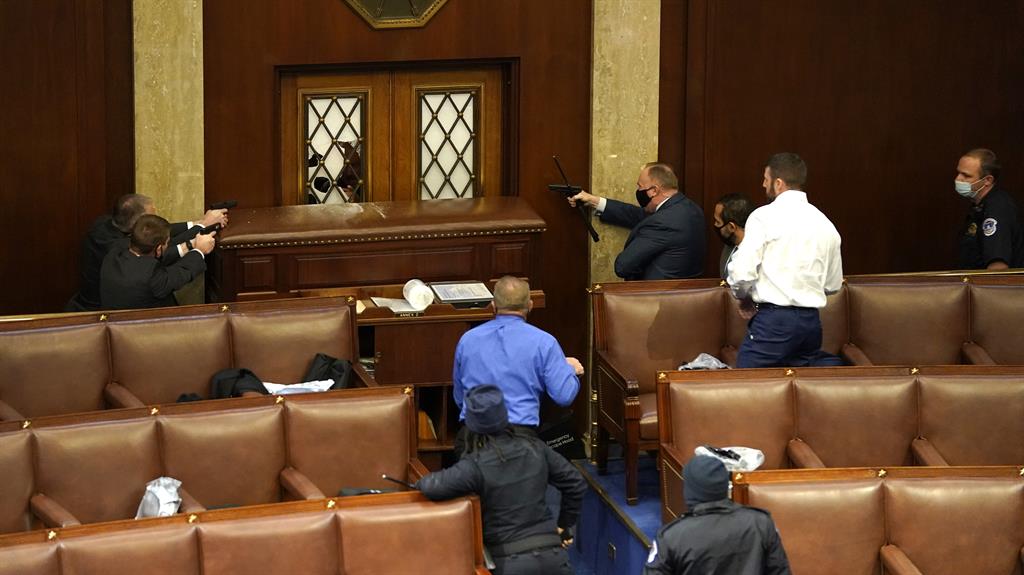 Politicians including vice president Mike Pence were moved to secure locations, while officers fired tear gas as clashes broke out. A pipe bomb was found on the Capitol grounds and removed, authorities said.
Some protesters managed to get into the Senate and House chambers while thousands surrounded the building.
It came only hours after Mr Trump told a rally of supporters outside theWhite House to march to the Capitol to protests against the electoral college vote count.
As his supporters streamed into the Capitol, he tweeted his anger at Mr Pence for saying he would certify Mr Biden's win in line with the law.
He later appealed for protesters to 'remain peaceful' but critics pointed out he did not ask them to stop or go home.
In a sombre address to the nation, Mr Biden said the Trump supporters should not be described as protesters as they wanted an 'insurrection'.
He said: 'At this hour, our democracy is under unprecedented assault, unlike anything we have seen in modern times. An assault on the citadel of liberty, on the capital itself.'
The president-elect also demanded Mr Trump go on national television 'now' to call off his supporters and 'demand an end to this siege'.
Mr Trump later urged his supporters to 'go home' in a video statement posted to Twitter. He said: 'I know your pain, I know you're hurt. We had an election that was stolen from us, it was a landslide and everyone knows it… but you have to go home now. Go home, we love you, you're very special'. Twitter put a warning under his video statement saying it cannot be retweeted due to the 'risk of violence'.
Earlier, Mr Trump failed in his last-ditch attempt to overturn his election loss when Mr Pence told him that he did not have the power to reject votes unilaterally.
Mr Trump has persistently claimed without evidence that he lost November's election due to fraud and tweeted that Mr Pence 'didn't have the courage to do what should have been done'.
Although the electoral college process is usually a ceremonial state-by-state process, Republicans raised their first objection to the Arizona result before the chaos forced the session to be suspended.
Meanwhile, Democrats seized control of the Senate after their candidates Raphael Warnock and Jon Ossoff won victories in Georgia last night.